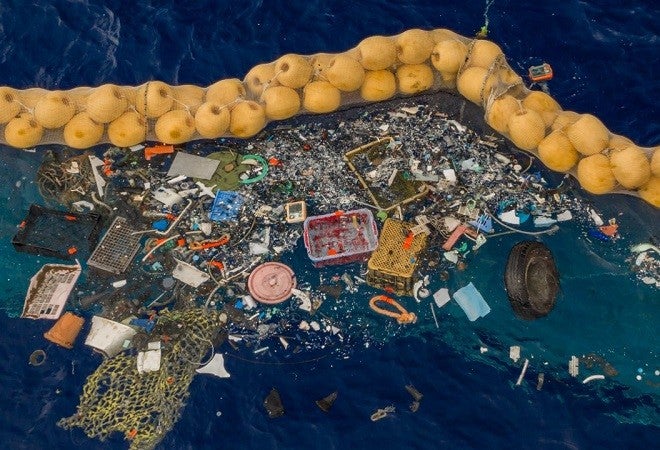 A 600m long (2,000ft) floating boom designed by Dutch Scientists has successfully retrieved ocean plastic from the Pacific Ocean for the first time.
The success was first documented via Twitter by The Ocean Cleanup founder and CEO Boyan Slat. Slat tweeted: "Our ocean cleanup system is now finally catching plastic, from one-ton ghost nets to tiny microplastics! Also, anyone missing a wheel?"
Our ocean cleanup system is now finally catching plastic, from one-ton ghost nets to tiny microplastics!

Also, anyone missing a wheel? pic.twitter.com/Oq0rkXO3TH

— Boyan Slat (@BoyanSlat) October 2, 2019
The collection of ocean plastic, known as the Great Pacific Garbage Patch, was discovered by oceanographer Charles Moore and is said to be three times the size of France.
The system floats on the surface and has a 3m (10ft) deep screen underneath, which collects some of the 1.8 tonnes of plastic without disturbing any marine life. It also features satellite communications and sensors to transmit its position to a separate ship that will collect the gathered ocean plastic every few months.
The gathered plastic will be transported back to shore in December for recycling. The Ocean Cleanup now aims to expand the boom and improve its durability to hold plastic for up to a year or longer before collection is required.
During a press conference in Rotterdam, Slat said: "After beginning this journey seven years ago, this first year of testing in the unforgivable environment of the high seas strongly indicates that our vision is attainable and that the beginning of our mission to rid the ocean of plastic garbage, which has accumulated for decades, is within our sights.
"Our team has remained steadfast in its determination to solve immense technical challenges to arrive at this point. Though we still have much more work to do, I am eternally grateful for the team's commitment and dedication to the mission and look forward to continuing to the next phase of development."
The worldwide fight to remove ocean plastic
There are around 51 trillion (269,000 tonnes) of microscopic plastic in the ocean, according to UK environmental charity Surfers Against Sewage. And the Great Pacific Garbage Patch has been predicted to double in size in the next ten years if the world does not tackle its ocean plastic pollution.
However, many companies and governments have started to set an example by reducing their plastic usage. Earlier this year, Japanese multinational IT equipment and services company Fujitsu announced plans to reduce its use of plastic in its business activities to help tackle ocean plastic waste.
The pledge included the withdrawal of plastic cups and straws and plastic-bottled drinks from its meeting spaces and café, and vending machines located on the company's property.
The Indonesian island of Bali also won its single-use plastic ban lawsuit earlier this year, after an overruling by the Supreme Court, according to a report by The Jakarta Post
The lawsuit challenged the local administration's Gubernatorial Regulation (Pergub) No. 97/2018 limit on plastic bags, straws and Styrofoam.