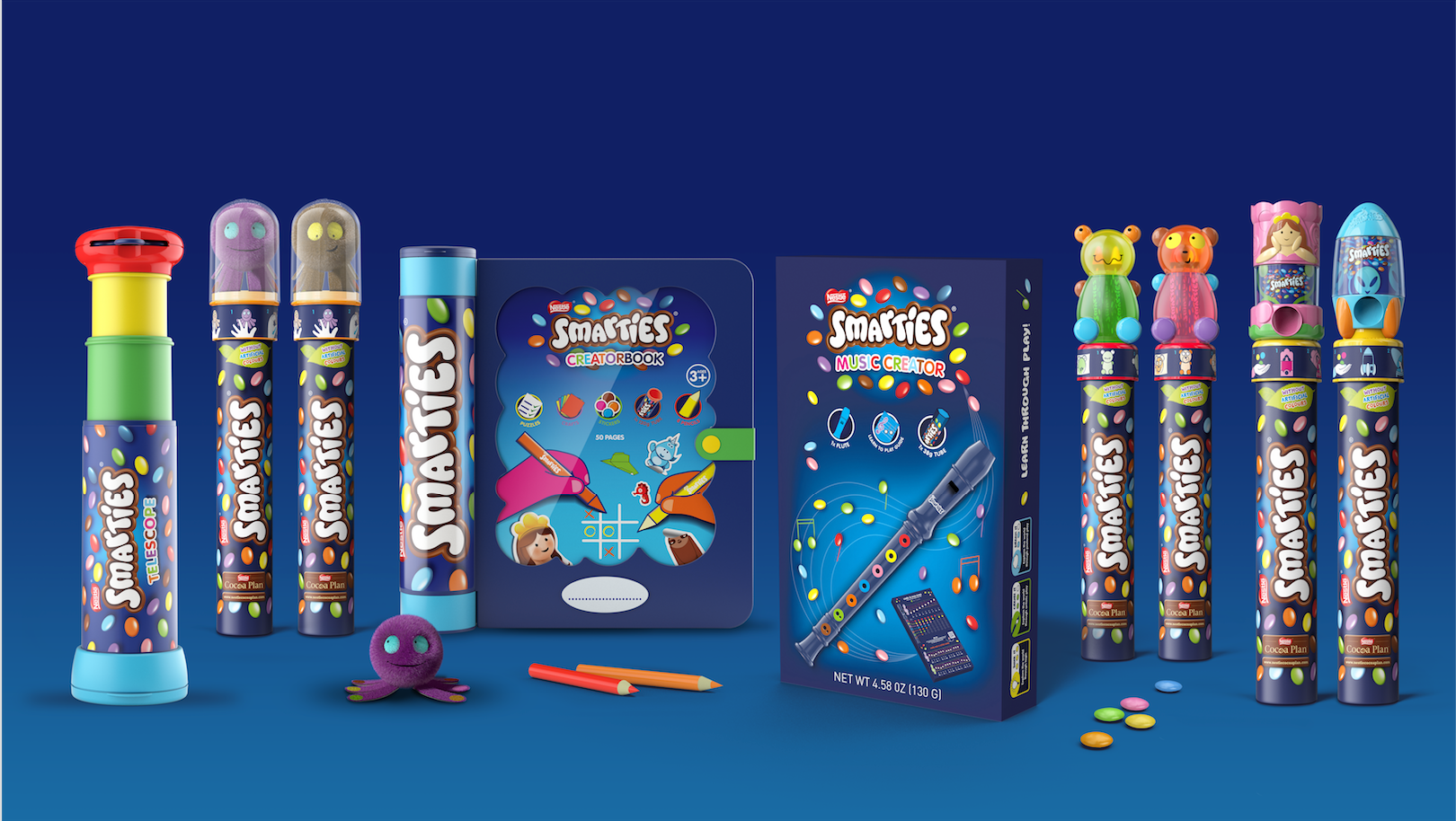 UK-based brand design agency Echo has partnered with confectionery brand Smarties to develop packaging designed to encourage developmental play.
Earlier this year, Nestle-owned brand Smarties announced its product Smarties Music Creator, a recorder and music learning system available at duty-free stores. Echo will now be working with Smarties to resign the packaging for this product.
The sustainably-made packaging will include a QR code that, when scanned, redirects consumers to a portal that contains online resources where consumers can learn to play the recorder. The portal also includes a brand story page, interactive pages, and tutorial videos.
Echo account director Peter Cowie said: "Today's children are independent, smart, excitable and easily bored, but there's a great opportunity for brands to capture their imagination by creating experiences – through tactile and digital play – that satisfies their curiosity and need for self-expression. Smarties wanted to progress their mission in facilitating children's learning through play and interactive design.
"Initially, we were asked to design the physical packaging for the toy, but we also explored the option of utilising Smarties' online space to increase the educational value of the learning experience, driving deeper engagement with the brand and packaging and driving traffic to the Smarties website."
Further response
Echo graphic designer Susie Whittaker said: "The Smarties brand has a well-established visual identity: it's a playful, fun and colourful brand. Our aim was to reflect their iconic visual language throughout our new design whilst maximising the channels available to us to help children become more engaged with the brand and the activities.
"We kept a fluent design language throughout the assets, replacing the usual black notes of the scores with brown hues, resonating the brand's chocolate pastilles. The function of the score remains the same but the presentation is in line with the brand's colourful playful identity. In a similar way, we designed the eight recorder holes on the visuals of the instrument to resemble the colours associated with the brand and the tasty chocolates inside – a great example of using brand design to influence learning."
Nestle international travel retail marketing manager Tamara Spada said: "We are on a mission to inspire parents and guardians to engage with their children in playful learning. No two children are the same and we know from our own studies with child development experts that children learn in different ways.
"Through the resources that Echo has designed, we are able to offer children a variety of engaging ways in which to learn, highly visual, which corresponds to the different learning styles we have identified; namely the thinker, dreamer, and creator. We're excited to see how children engage with these new tools that are set out to inspire, drive and motivate fun learning."