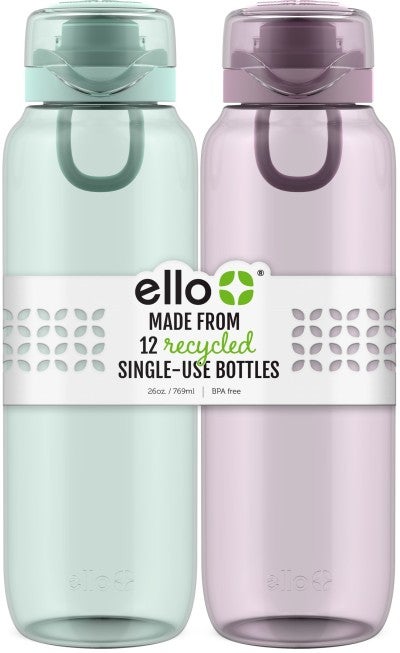 US-based food and beverage company Ello has partnered with advanced materials and speciality additives company Eastman to launch a sustainable water bottle in the US.
Named the Eco Ello Bottle, the reusable water bottle is made from Eastman's Tritan Renew material, which contains 50% certified recycled content.
The bottle is part of Ello's greater sustainability goals, such as expanding its zero-waste product lines, using less single-use plastic in its packaging and investing in environmental education.
As well as the Eco Ello Bottle, the company plans to launch a locally made limited-edition tote bag using upcycled fabric.
Ello design director Glen Gilmore said: "Tritan Renew is the first recycled plastic material that stands up to the quality demands of our products and process, so we jumped at the chance to design a bottle that matches the sustainable qualities of the material itself.
"The bottle minimises material use while maximising durability and cleanability to extend the overall life of the product."
Eastman developed Tritan Renew using its Advanced Circular Recycling technologies.
The technologies, also known as molecular recycling, break down plastic waste into fundamental building blocks to make new materials free of bisphenol A (BPA), bisphenol S (BPS) and bisphenol F (BPF).
Eastman speciality plastic commercial director Courtland Jenkins said: "The Eco Ello Bottle is another great example of using Tritan Renew to demonstrate what is possible right now with Eastman's Advanced Circular Recycling technologies.
"We're thrilled to be part of Ello's sustainability journey to make small changes now that add up to big impact for the future."
In February, Eastman announced plans to develop a plastic-to-plastic molecular recycling facility at its site in Kingsport, Tennessee.
To develop the facility, the company intends to invest almost $250m in the site over the next two years.