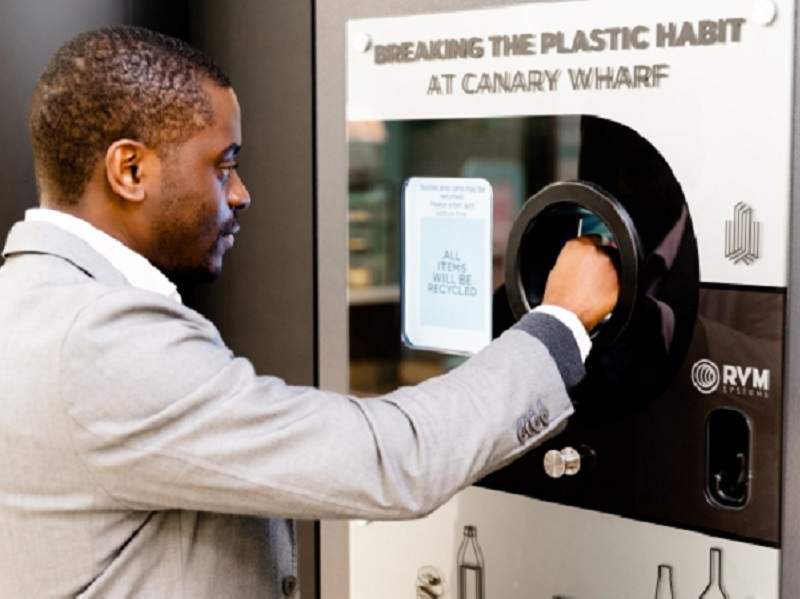 London's financial centre Canary Wharf is to adopt the UK's first on-site deposit return scheme aimed at collecting plastic bottles and boosting recycling rates.
The initiative, which is part of Canary Wharf Group's 'Breaking the Plastic Habit' campaign, comes days after the UK Government announced plans for new measures to tackle plastic waste.
Under the current scheme, people in the area can drop used bottles and cans into a machine and receive a thank you note in exchange.
However, in a bid to encourage more Londoners to adopt the plan, Canary Wharf Group is holding negotiations with local retailers in the shopping centre nearby to reward users with a 5p or 10p discount voucher.
Figures show that the UK recycles only 43% of the 13 billion plastic bottles sold each year, compared with 99% in Germany where a deposit return scheme has been in use since 2003.
According to Packaging News, the machine was funded by Canary Wharf Group, with stats showing that every unit could cost £30,000 when distributed across the UK.
The machine has a scanning recognition system that identifies, segregates, collects and processes drink containers, creating a resource from recyclates that would otherwise end up in landfill.
Canary Wharf Group sustainability manager Lugano Kapembwa, said: "We are proud to be the first in the UK to launch the Deposit Return Scheme to give our shoppers the opportunity to recycle their single-use plastic and metal. From our research we know that visitors to the Estate want to do more for the environment.
"This initiative follows on from the hugely successful 'Wake Up And Smell The Coffee' campaign launched last year to recycle coffee cups, lids and coffee grounds at Canary Wharf with 664,285 of coffee cups recycled instead of going to landfill."
The group said that the scheme is part of its 12-month 'one-use plastics' reduction and behavioural campaign, which is also taking into consideration next-generation sustainability issues.
Some efforts have already been made to cut down plastic bottle waste in London. Earlier in January, Mayor of London Sadiq Khan proposed an initiative that features the installation of drinking fountains and bottle-refill points in some strategic areas of the capital.
The government is also considering launching a bottle and can deposit-return scheme in a bid to increase recycling rates across the UK.