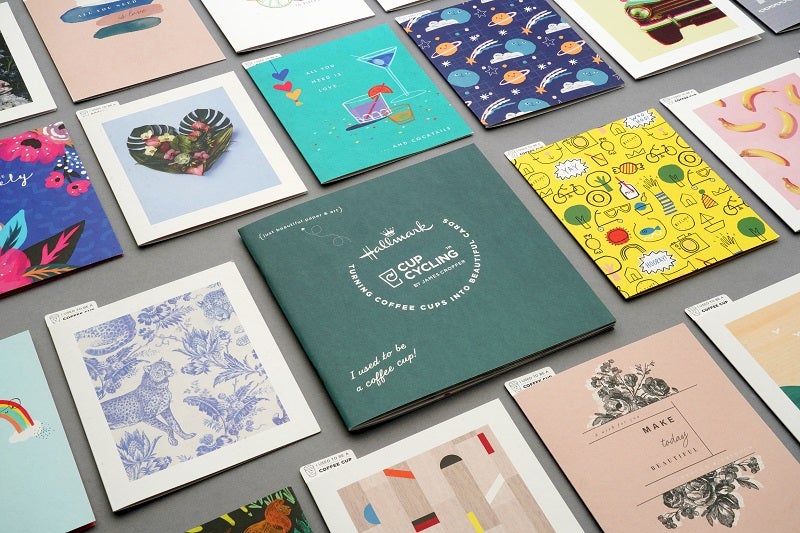 UK advanced materials and paper products group James Cropper has partnered with US-based cards, party goods and stationery retailer Hallmark Cards to create a card collection made from upcycled coffee cups.
Launching in-store from October 2019, the collection includes 44 100% recyclable cards and envelopes. The products have all been designed within boutique collections and made using James Cropper's recycling take-away cup facility, CupCycling.
James Cropper said the project will help to reduce the estimated 2.5 billion take-away cups thrown away in the UK each year.
James Cropper managing director Steve Adams said: "Transforming a morning latte into a beautifully-designed and positive sentiment really captures the spirit of CupCycling; a second life for coffee cups can often be more compelling and longer-lasting than its first.
"This partnership demonstrates the value this precious raw material has, and how it can produce truly creative outcomes, setting a high benchmark for outstanding circular design.
"To date, we have recycled over 100 million coffee cups at our CupCycling facility. However, for anyone wanting to follow in Hallmark's footsteps, we have the capacity to convert 500 million per year into papers for packaging in all colours."
Hallmark Cards' head of brand Alison Murnane said: "We already make Hallmark Cards from responsibly sourced paper, so we were delighted to work with James Cropper to help drive forward another sustainable way to make an impact by taking some of the today's waste and turning it into a beautiful card that creates a lasting moment for tomorrow."
How companies are changing packaging using coffee cup recycling
James Cropper has previously partnered with retailers such as Selfridges, McDonald's and Costa to tackle the UK's waste issues. They are not alone however in recognising the potential for upcycling in coffee cups.
UK recycling company First Mile and sustainable food packaging specialists Huhtamaki partnered this year to boost the effectiveness of disposable cup recycling across the UK. The move will see First Mile collect used disposable coffee cups from Huhtamaki's London and Birmingham customers and process it into nutrient-rich fertiliser through the recycling company's new compostable packaging recycling service.
Meanwhile, US-headquartered coffeehouse chain Starbucks partnered with UK environmental charity Hubbub to launch the first-ever reusable cup trial at Gatwick Airport in a campaign they call #cupcupandaway. Starbucks also introduced its 5p cup charge in February last year and launched a new UK grant this April, The Cup Fund, to help create paper cup recycling programmes across the UK.