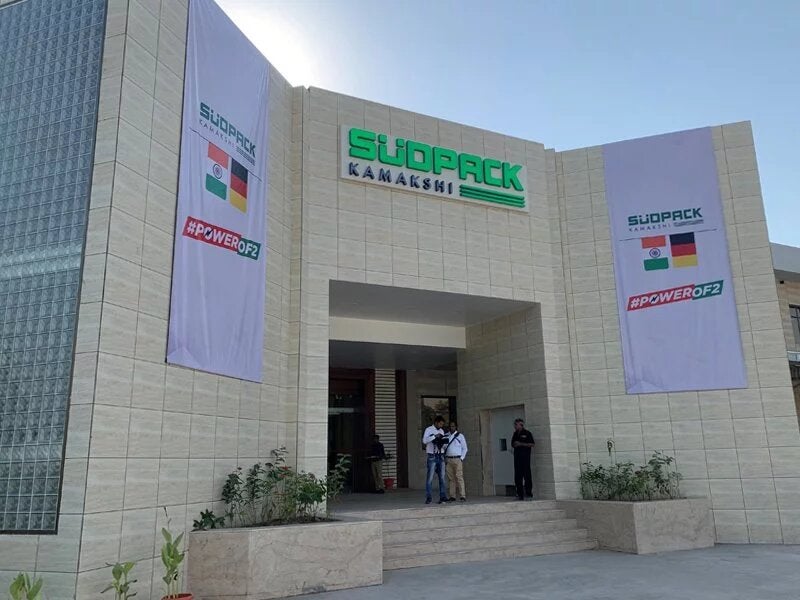 Kamakshi SÜDPACK, a joint venture of packaging companies SÜDPACK and Kamakshi Flexiprints, has opened a production plant near Ahmedabad, India.
Covering a total area of around 47,000m², the new Kamakshi SÜDPACK plant houses spaces for extrusion, printing, laminating and pouch production.
It is equipped with advanced extrusion, printing, coating and laminating machines to facilitate the production and finishing of high-performance films.
The companies have slowly commissioned individual lines in recent weeks and upgraded them to produce flexible packaging solutions at the site.
SÜDPACK said that the plant meets IGBC Standards for green building and will comply with future international regulations and standards, including Good Manufacturing Practice (GMP), BRC, FSMS ISO 22001, QMS ISO 9001 and SMS-ISO 45001.
Officials who attended the opening ceremony for the facility included SÜDPACK's managing partner Carolin Grimbacher and its managing director Tharcisse Carl, as well as Kamakshi SÜDPACK managing director Harish Goel.
Carl said: "Our well-considered site concept is designed so we can gradually expand its capacities in order to meet the ever-increasing demand for multilayer films that are both innovative and sustainable for flexible packaging on the Indian subcontinent."
The facility was opened after around 18 months of construction.
It is part of SÜDPACK's internationalisation strategy and will serve as a strategic development hub to meet growing demand on the Indian subcontinent.
The plant will also address the demand for quality flexible films in a wide range of industries, as well as sustainable packaging solutions.
Based in Ochsenhausen, Germany, SÜDPACK manufactures high-tech films and packaging materials for the food, non-food and medical product industries.
The company has production sites in Germany, France, Poland, Switzerland, the Netherlands and the US, as well as a Development and Application Centre at its headquarters.
Kamakshi Flexiprints manufactures printed, flexible packaging materials for food and non-food industries.