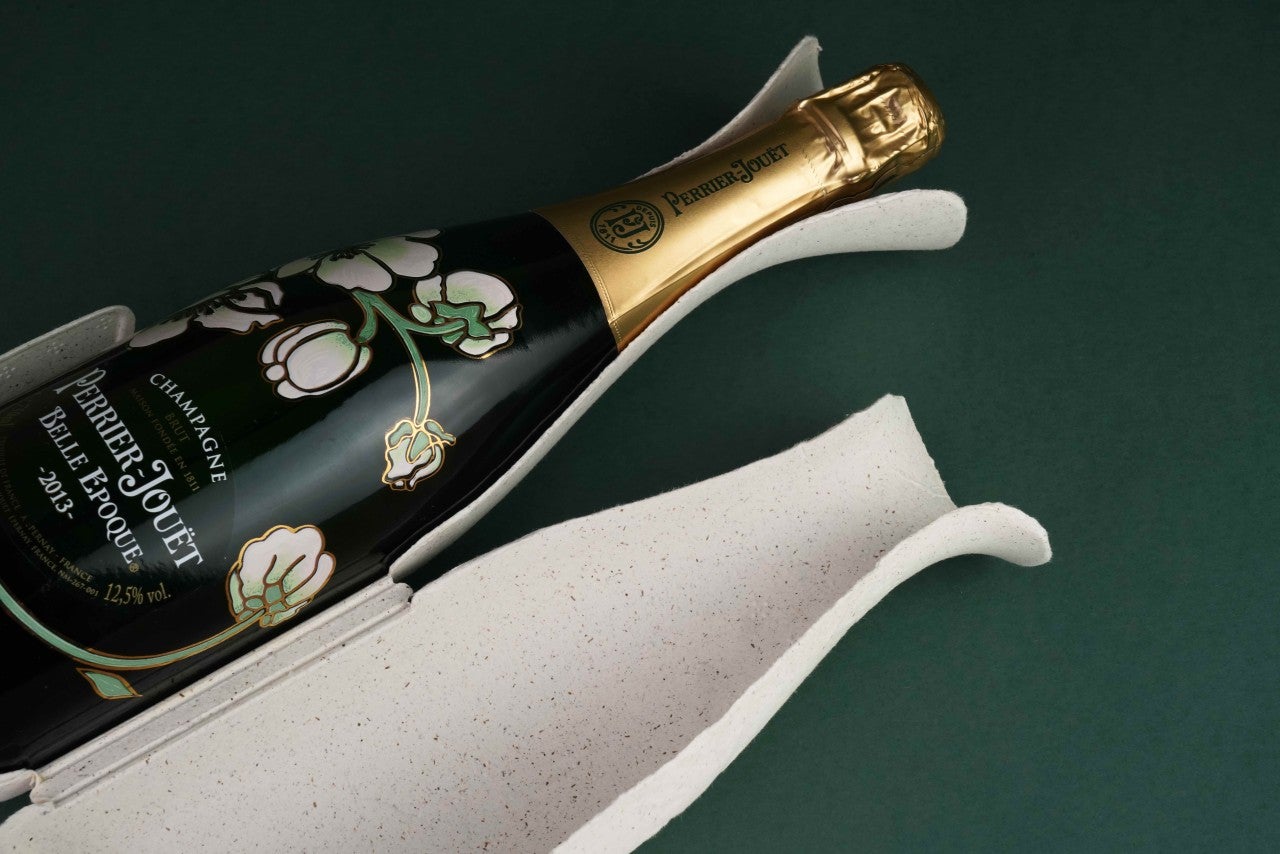 French champagne house Maison Perrier-Jouët has partnered with COLOURFORM, a sustainable packaging brand by James Cropper, to develop an eco-friendly gift box.
The Belle Epoque Cocoon box is made from pulp paper derived from sustainably managed forests and vine shoots in France.
Maison Perrier-Jouët will use the packaging for its Perrier-Jouët Belle Epoque and Perrier-Jouët Belle Epoque Rosé vintage cuvée products.
Belle Epoque Cocoon is 93% lighter than the company's previous gift box, weighing 49g in total.
The box features a long sleek hinge and a double-locking clasp mechanism to fasten it, which eliminates the need for varnish or glue.
It is designed to be both recyclable with other paper products and circular in design.
Perrier-Jouët packaging development manager Audrey Guerin said: "This work represents a fantastic collaboration between the James Cropper and Maison Perrier-Jouët development teams.
"The ultra-light creation represents a huge moment for the brand since it marks the goal we set out to achieve of having our entire gift offer eco-designed by 2023.
"We're delighted to mark the achievement with such a beautiful design that seamlessly showcases how beauty and sustainability can work together, in the luxury market."
COLOURFORM brand manager Richard Dancy said: "The high attention to detail behind this unique box design has been born from Maison Perrier-Jouët's close relationship with nature and love of art and natural materials.
"By reducing the impact on the environment as much as possible with Belle Epoque Cocoon, Maison Perrier-Jouët is giving meaning to all moments of celebration and has reinvented the codes of luxury."
Maison Perrier-Jouët will initially launch Perrier-Jouët Belle Epoque and Perrier-Jouët Belle Epoque Rosé with the new box in the US, France and Italy.
In September last year, James Cropper partnered with fragrance brand BelRebel to create a recyclable packaging solution.