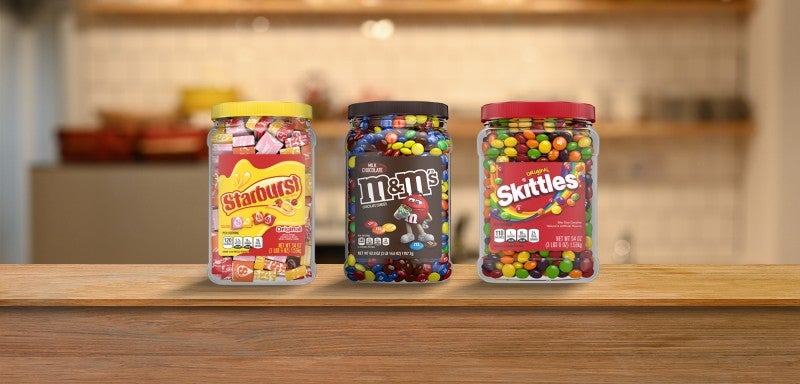 US-based food company Mars has partnered with plastic packaging manufacturer Berry Global to launch snack jars made with recycled plastic content.
Manufactured with a single-pellet, food-grade resin, the polyethylene terephthalate (PET) jars are claimed to contain 15% post-consumer resin (PCR).
The jars are available in 60oz, 81oz and 87oz variants, with each size offering the same look and feel.
These jars are expected to remove around 300t of virgin plastic a year.
In addition, the 81oz and 87oz jars each weigh 10g less, reducing carbon dioxide emissions by 374t.
Berry Global North America consumer packaging EVP and general manager Brian Hunt said: "By leveraging our material science expertise and technical resources, we proactively created a solution for Mars without disruption to product performance.
"Through partnerships and creative thinking such as this, customers look to Berry for unique solutions to their sustainability challenges."
The lighter-weight jars will be introduced for Mars' M&M's, Skittles and Starburst brands later this month.
The investment in packaging is part of the company's ongoing commitment to sustainability.
Mars Wrigley North America research and development (R&D) vice-president Justin Comes said: "At Mars, we want to contribute to a circular economy where packaging material never becomes waste, but is recycled, reused or composted.
"We have set an aggressive, science-based strategy to innovate our packaging and this change to 15% PCR for these large-format jars is a significant step towards a more sustainable future."
Based in Indiana, Berry Global works with clients to develop, design and manufacture products that contribute to a circular economy.
The company recently partnered with personal care brand Ingredients to develop fully recycled plastic bottles for haircare products.
The high-density polyethylene (HDPE) bottles and caps are made entirely from PCR plastic.
They are being produced at Berry Global's manufacturing facility in Winchester, Virginia.