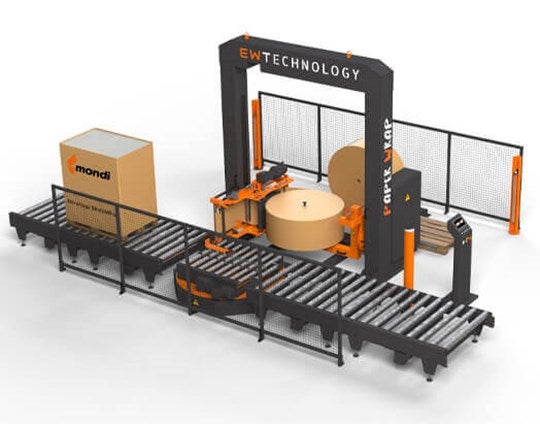 Mondi has partnered with EW Technology, an Austrian mechanical engineering company, to develop new paper pallet wrapping machine.
The machine integrates EW Technology's mechanical engineering expertise with Mondi's paper packaging knowledge, helping companies to wrap pallets in Advantage StretchWrap paper.
It enables customers to replace the multi-layer plastic used in pallet wrapping with a recyclable and renewable paper alternative.
The machine is available in two settings, a fully automated version that can wrap up to 60 pallets every hour and semi-automated to wrap 10-15 pallets per hour.
Mondi said that the new wrapping machine more efficient and sustainable on small-to-medium production lines.
Mondi advantage stretchWrap product manager Babicz Bartosz said: "We work with brands across various industries and recognised that companies seeking to be more sustainable and with smaller outputs require a customised machine for paper pallet wrapping.
"This machine will mean that customers can successfully and safely wrap their products in paper for transportation, work towards a more circular system and make a positive contribution to the environment."
Mondi's Advantage StretchWrap is a 100% virgin paper and fully recyclable in existing paper waste streams across Europe.
Developed with renewable materials, the paper features no plastic or coating, without compromising strength and tension absorption.
EW Technology co-founder Philipp Ertl said: "By taking a collaborative approach with Mondi we were able to learn exactly what was needed and work together to deliver a unique new offering in paper wrapping technology for palletised goods – one that will benefit companies across many industries."
Recently, Mondi partnered with German machine supplier beck packautomaten to launch a packaging solution for the e-commerce industry.