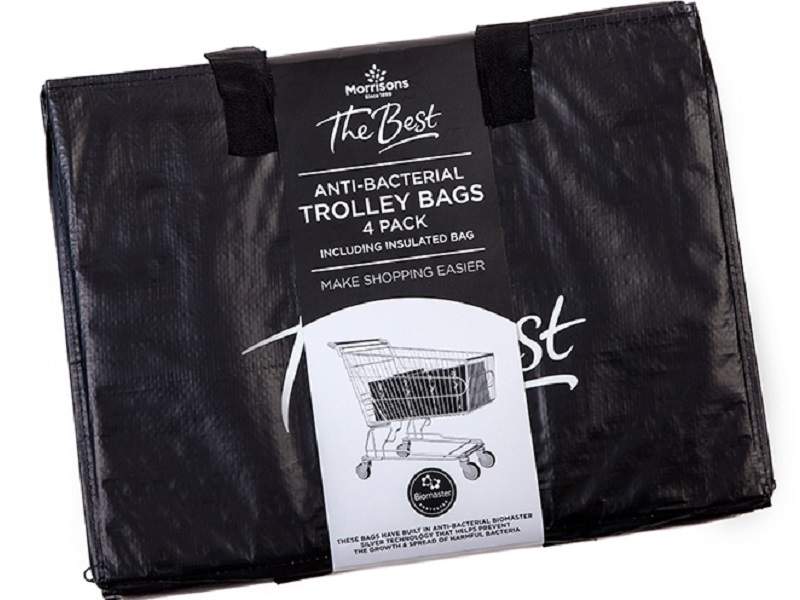 British supermarket chain Morrisons is to introduce an antibacterial trolley bag in its stores. The bag was designed by Addmaster, a UK-based provider of additives for use in polymers.
The company used its Biomaster antimicrobial technology to develop the 4-pack trolley 'bag for life' that aims to make supermarket shopping easier and more hygienic.
The bag is designed to be placed in the trolley where it remains open and upright. According to Addmaster, these carriers can also save time at the checkout, since shoppers do not need to keep them open while packing their groceries.  The 4-bag set can also be used for a 'shop on the go' and be flat-packed in the back of the car without occupying space.
The product will be available at Morrisons' stores starting from next month.
The company used its Biomaster technology to protect the inner lining of the bags and prevent bacteria from growing. The move comes after recent studies showed that dangerous bacteria can develop in reusable shopping bags, with some able to survive in this environment for up to eight weeks. The antibacterial protection reportedly lasts for the useful lifetime of the bag.
The Biomaster carrier is available in a range of designs including insulated cool bags, lunch bags and pouch bags. Addmaster Marketing manager Karl Shaw told Packaging Gateway: "Most people are not aware that dangerous bacteria can thrive on the inside of reusable grocery bags. These new trolley bags are treated with technology proven to inhibit the growth of all types of bacteria that might transfer between your bag and the groceries."
Addmaster is a British supplier of additives for the textile, plastics, paper, paints and coating industries. Earlier in March, the company designed another antibacterial shopping bag in a partnership with B&G Products with similar characteristics to its trolley version. This 'cool bag' is currently on sale at Morrisons.
The retailer recently joined a string of UK businesses for the launch of the UK Plastics Pact, which aims to tackle plastic waste by developing sustainable packaging alternatives and eliminating single-use plastics from stores. Morrisons also pledged to make all of its packaging recyclable by 2025 and to phase out black plastic trays by 2019.