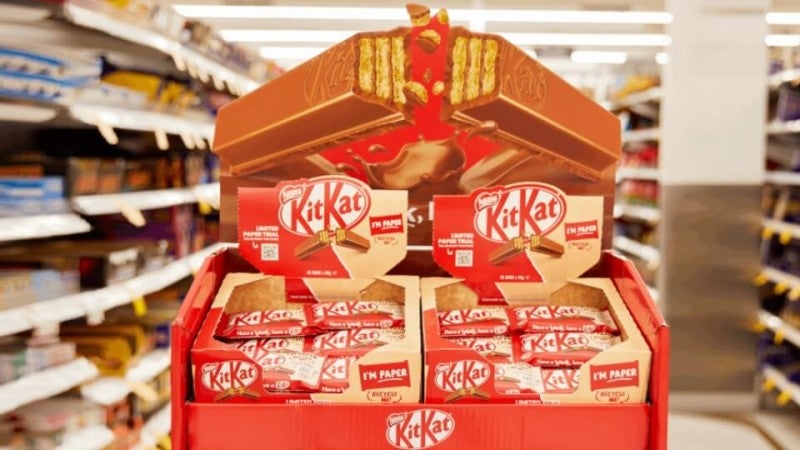 Multinational food and beverage company Nestlé is trialling paper packaging for its KitKat chocolate bar in Australia in partnership with supermarket chain Coles.
The limited-period trial will see more than a quarter of a million KitKat bars being sold in the new paper packaging.
From this month, KitKat Milk 45g will be available for purchase in paper packaging.
The new wrapper is exclusively available at select Coles stores across Western and South Australia and the Northern Territory. 
The packaging features a thin metal barrier film to keep the bar fresh and has a recyclable Australasian Recycling Label (ARL).
It is recyclable through kerbside recycling programmes that collect and process paper.
In addition, each KitKat bar will feature a QR code that customers can scan to provide their opinion on the paper packaging.
The trial aims to expedite Nestlé's goal of reducing its use of virgin plastics by a third by 2025.
Nestlé Oceania confectionery and snacks general manager Chris O'Donnell said: "We're proud to be the first country globally to trial KitKat in paper packaging, as an important step towards reducing our use of virgin plastic.
"With all packaging innovations, our priority is to ensure we deliver the same delicious KitKat with creamy chocolate and crisp wafer.
"Our partnership with Coles has made this packaging trial a possibility, where Aussie chocolate lovers can have their say on our innovative KitKat packaging.
"The feedback we receive on this trial will help shape the next step of giving Aussies their favourite break."
In October last year, Nestlé introduced new wrappers designed to make its Quality Street and KitKat packaging more sustainable.
The wrappers are certified by the Forest Stewardship Council (FSC) and replace the company's previous dual foil and cellulose packaging.
They were developed jointly by Nestlé's Confectionery Research and Development Centre and the Nestlé Institute of Packaging Sciences.