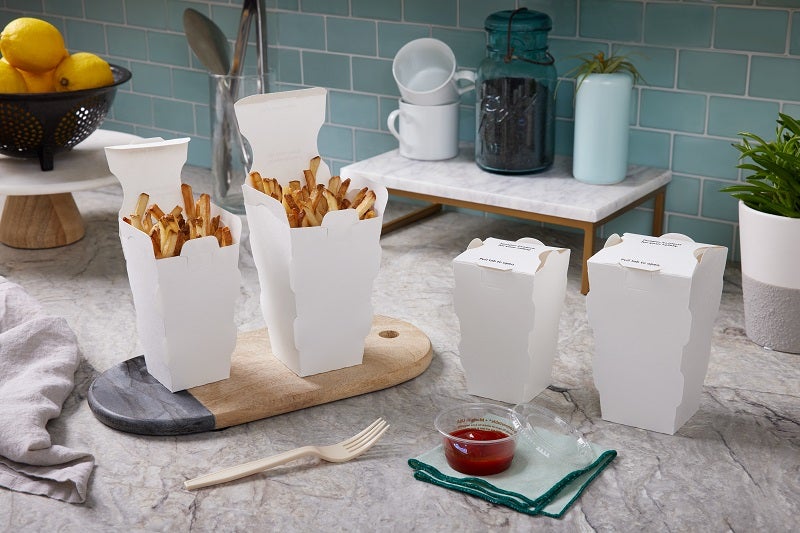 US-based food and beverage packaging firm Pactiv Evergreen has introduced Tamper Evident Fry Cartons as part of its packaging solution portfolio.
The company has designed the patent-pending Fry Cartons with portability, safety and security in mind to cater to the delivery and takeaway markets.
The carton has a tamper-evident latch that must be torn to access the contents inside. This is designed to help increase food safety and consumer confidence.
The latch is also intended to help keep the food secure and prevent spillage during transport.
The Fry Cartons also include a cross-ventilation system that aims to keep food hot and crunchy.
The cartons are made from Pactiv Evergreen's Sentinel Paperboard and have been developed to meet the changing needs of foodservice operators.
The company said that companies can use the cartons to display hot food ready for 'grab-and-go' consumption, as well as print their brand and message on the packaging in up to six colours.
Pactiv Evergreen Foodservice business unit sales senior director Erik Hoar said: "With the snack daypart on the rise, we recognised the need for packaging that provides an excellent off-premise dining experience.
"With our new Fry Cartons, operators can display hot food ready for grab-and-go consumption.
"The cartons' unique shape, size and reclosable lid makes them great for snacking on the go.
"Serving hot and crispy foods to go has never been easier."
The cartons are claimed to be 'perfect' for campus dining, delivery, concessions and recreation venues and meet ASTM D6868 requirements for commercial composability.
They are also free from perfluoroalkyl and polyfluoroalkyl substances (PFAS).
Last month, Pactiv Evergreen recorded $1.49bn in revenue for the first quarter (Q1) of the fiscal year 2022 (FY22), up by 28% from a year earlier.
Earlier this year, the company agreed to sell its carton packaging and filling machinery businesses in China, Korea and Taiwan to SIG for around $335m.