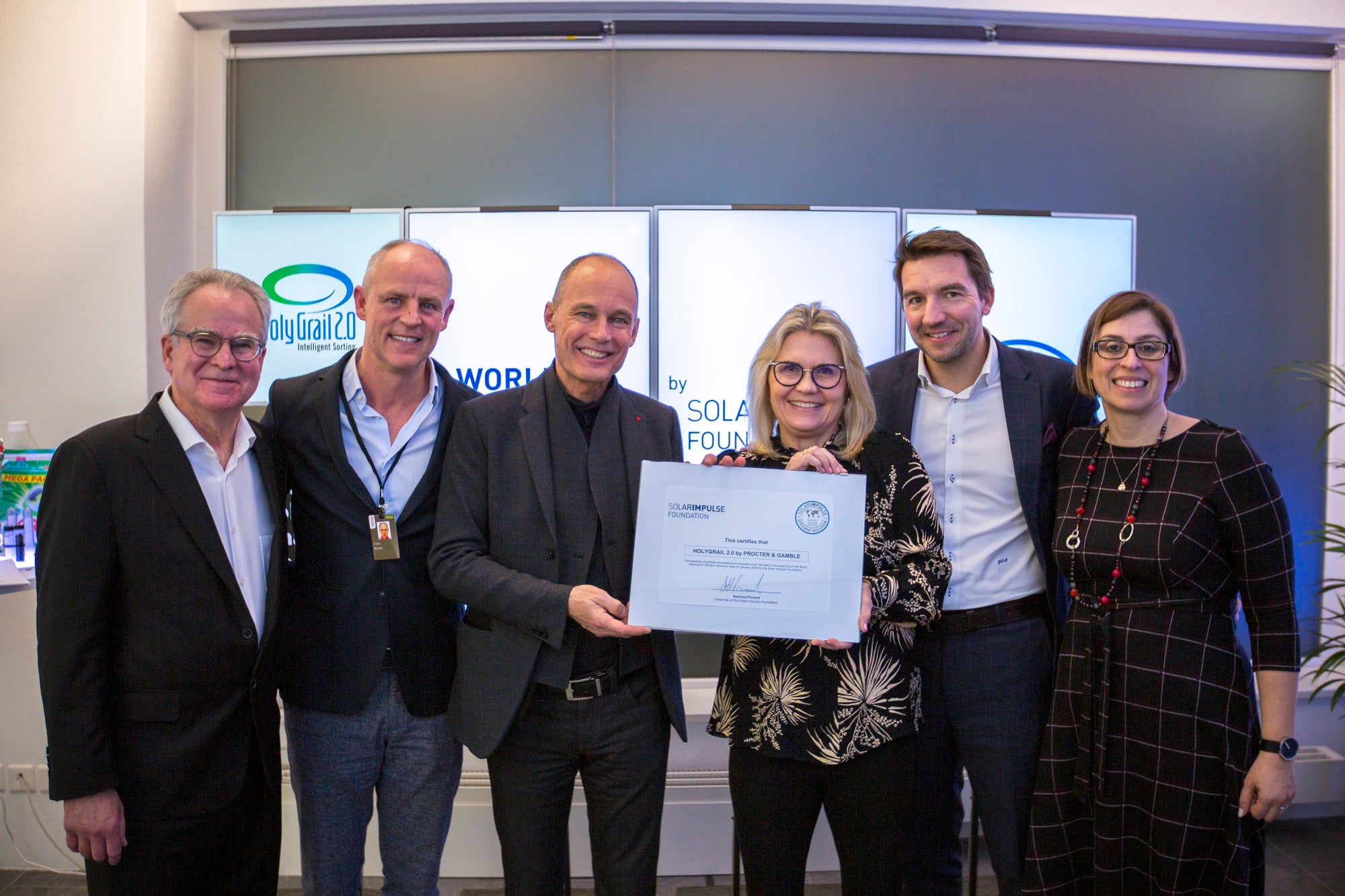 US-headquartered multinational consumer goods company Procter & Gamble (P&G) has today announced several brand changes in pursuit of its 2030 sustainability goals, which includes a new partnership with UK recycling company Viridor . The company says these changes represent "significant advances across European sustainability projects" in pursuit of its 'Ambition 2030' goals, which include brands making a positive impact on the environment and reducing supply-chain footprint.
P&G brands Lenor, Unstoppables, and Fairy will be the first commercial brands to implement P&G-led recycling project HolyGrail intelligent packaging in Europe. HolyGrail, formed in 2017, was created to tackle sorting issues at recycling facilities by creating digital watermarks visible to optical scanners. Unstoppables and Lenor scent boosters will be the first P&G product to implement HolyGrail digital watermarks by October 2020. Fairy will be the second brand in Europe and the first in the UK to use HolyGrail intelligent packaging.
P&G fabric care Europe vice-president Volker Kuhn said: "We are very proud that our Lenor and Unstoppables will be the first P&G brands to integrate HolyGrail digital watermarks into their scent booster packaging. This early adoption can further accelerate the learnings behind improved sorting at recycling facilities."
P&G also announced a new partnership with Viridor that aims to save 200 million Ariel laundry detergent bottles worth of virgin plastic over five years by recycling and reprocessing high-quality plastic. The contract between the companies, which follows a three-year collaboration to produce sustainable packaging from post-consumer waste, will start in the 2020/21 financial year and supports Ariel's ambitions to make its packaging fully recyclable by 2020 with a 30% reduction of plastic packaging by 2025. Viridor's high-density recycled polyethylene (rHDPE) will also assist Ariel in meeting its previous commitment to reach up to 50% recycled content in its liquid bottles by 2020.
P&G purchases group manager Adam Selby said: "Viridor and P&G have been collaborating to pioneer and innovate in the areas of sustainable packaging for more than three years. This agreement accelerated P&G's 2030 goal to reduce our use of virgin petroleum plastic in packaging by 50%. As a founding member of The Alliance to End Plastic Waste, we are committed to help minimize and manage plastic waste and promote solutions like this for used plastic."
Viridor resource management managing director Keith Trower said: "Viridor and P&G's relationship began with a commitment to make a product which would be truly circular by using an innovative method to boost quality. This contract signifies the success of that product, the strength of our relationship, and the true measure of success – seeing the product on supermarket shelves."
P&G is also set to use recycled polyethylene terephthalate (PET) plastic in haircare brand Pantene's packaging, starting with Pantene's clear collection bottles. P&G Hair Care Europe will be trialling circular resin produced by Indorama Ventures for the transparent bottles with aims to expand its use to other brands that use PET bottles. Indorama Ventures' resin is made using monomer recycling, giving the same grade of material as virgin PET.
P&G Hair Care Europe vice-president Artur Litarowicz said: "As an industry leader, we aim to inspire and enable responsible consumption, making superior products that are good for our customers, good for the planet, and good for our communities. We are focused on designing beautiful, sustainable packaging that minimises waste and is truly recyclable – which means the collection, reuse, and end market is there for the material, at the scale required. This partnership helps us achieve this."
Indorama Ventures chief recycling officer Yashovardhan Lohia said: "Indorama Ventures are proud to partner with P&G and their goal of sourcing sustainable materials to drive circular packaging solutions. As a signatory to the Ellen MacArthur Foundation's 'New Plastic Economy' initiative, we are committed to delivering 750,000 tonnes of recycled PET by 2025. Today's news is a real example of how we are living up to our commitment."