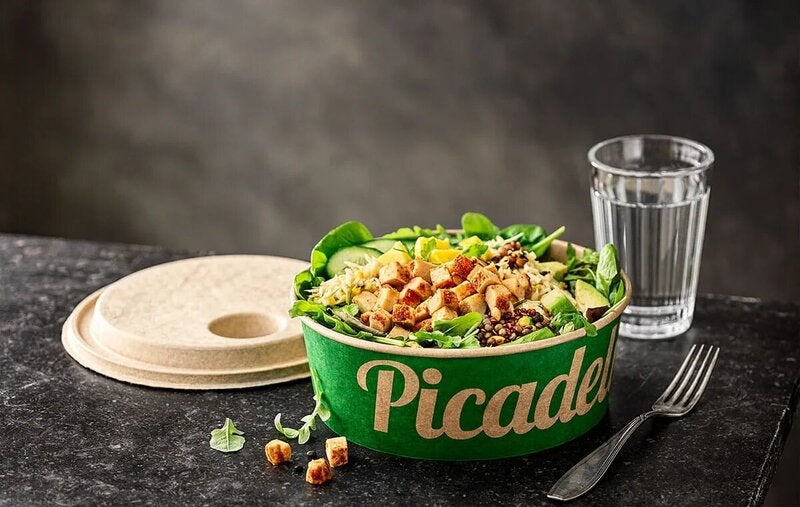 European takeaway salad bar company Picadeli has begun using a formed-fibre lid for its takeaway packaging as part of its sustainability efforts.
Made in partnership with Finnish pulp and paper manufacturer Stora Enso, the lid does not contain any perfluoroalkyl or polyfluoroalkyl substances (PFAS).
It is part of PureFiber by Stora Enso, a new range of formed-fibre products that are recyclable and compostable.
Stora Enso product manager Yujia Zhang said: "These types of lids only existed for drinking cups but not in bigger sizes.
"We had to develop a brand-new product that no one had done before."
Picadeli will replace ten million single-use plastic lids with formed-fibre lids, diverting around 120t of plastic waste a year.
The new lid is renewable, recyclable and biodegradable.
PureFiber products are also claimed to reduce carbon dioxide emissions by around 75% compared with alternative packaging materials such as plastic or bagasse.
Picadeli food concept developer Christine Soome said: "We searched for a paper-based lid and started to discuss possibilities with Stora Enso.
"They introduced us to formed fibre, which sounded great, but what would our customers think? As they won't be able to see the salad through this type of non-transparent lid.
"We've been close partners in all steps which is a big part in the success, it's not been a customer/supplier relationship but a cooperation between our companies. It has been great fun and very rewarding!"
Picadeli's move to introduce formed fibre lids is part of its commitment to halving its plastic usage by 2025.
The company previously replaced its plastic bowls with cardboard bowls.
It currently operates 2,300 salad bars throughout Europe and the US.
Stora Enso recently started a feasibility study for building a formed-fibre plant in Hylte, Sweden, which will primarily manufacture PureFiber by Stora Enso products.