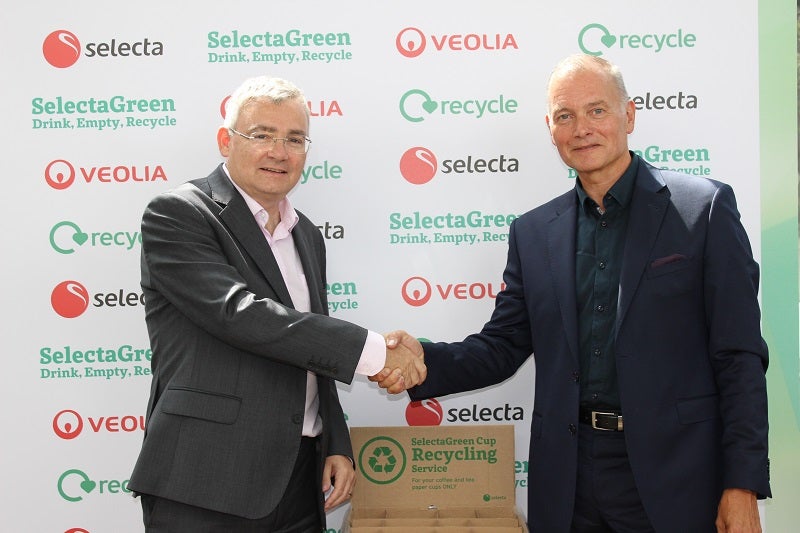 Coffee and vending machine supplier Selecta UK has partnered with French transnational waste, water and energy management company Veolia to launch SelectaGreen Cup Recycling Service for the workplace and on-the-go.
SelectaGreen will see millions of cups collected for processing each week. They will be made into high-end fibre goods, such as packaging for perfumes and colognes, shopping bags and luxury notepads.
Selecta UK said that the cup recycling service would be available to more than 10,000 UK vending customers in locations from businesses to train stations, schools and hospitals. It aims to provide an easy and cost-effective way for its UK vending customers to recycle their paper coffee cups via a service that guarantees cups are collected from premises and responsibly recycled.
Selecta UK marketing director Emily Stoten said: "At Selecta, we take sustainability and our responsibilities to the environment seriously. The recycling of a paper coffee cup is a complex process. Whilst our cups can already be recycled, we recognise that it isn't always easy for our customers to do this due to supply chain challenges, particularly when they are not based in city centres.
"As the largest supplier of vending machines in Europe, this is a significant step forward in removing a barrier for businesses and locations such as colleges and hospitals to contribute to recycling in the UK as it will ensure millions of cups a week can be collected for processing to be used in the paper pulp manufacturing industry."
Selecta vending customers who sign-up to the service will receive a SelectaGreen Cup Recycling box. Once full, it will be collected by Veolia within 48 hours of the collection request being received. The box is then replaced at the customer site and the cups are taken to Veolia's Essex recycling facility for separation.  The companies added that none of the materials used for SelectaGreen will go to landfill.
Stoten added: "This is a serious issue and we have approached it responsibly with the aim of producing a sustainable scheme that yields results reducing waste to landfill and helping our customers achieve their sustainability objectives.
"With this scheme, we have chosen the easiest route to make sure the highest possible volume of cups are dealt with and we feel that recycling through this effective and guaranteed scheme being offered by Veolia is the way forward.
"We expect to see a dramatic increase in recycling achieved through the SelectaGreen box scheme at hubs across the UK and we are proud to be able to be part of this process."
Veolia regional director Keith McGurk said: "We are delighted to partner with Selecta to deliver Veolia's innovative solution for their customers and help improve their environmental performance. With distribution points being far and wide and limited access to recycling points, our challenge has been to capture their customers' cups. We have solved this by offering our national collection to more than 10,000 of Selecta's customers, using our infrastructure and expertise.
"Since we launched this scheme in 2017, Veolia has already diverted more than 60 million cups from energy recovery and landfill. We look forward to improving these green credentials further with our new partner."
Cup recycling services answers growing issue of waste and infrastructure
Both companies said that the SelectaGreen scheme had been launched in response to the increasing awareness of coffee cup waste and the lack of infrastructure to manage it. With these issues rising, many more companies are now launching cup recycling services.
Last month, UK advanced materials and paper products group James Cropper partnered with US-based cards, party goods and stationery retailer Hallmark Cards to create a card collection made from upcycled coffee cups.
UK recycling company First Mile and sustainable food packaging specialists Huhtamaki partnered to boost the effectiveness in disposable cup recycling across the UK.
Earlier this year, US-headquartered coffeehouse chain Starbucks and UK environmental charity Hubbub launched the first-ever reusable cup trial at Gatwick Airport in a campaign they call #cupcupandaway.
Starbucks also partnered with UK environmental charity Hubbub to launch a new UK grant, The Cup Fund, to help create paper cup recycling programmes across the UK.