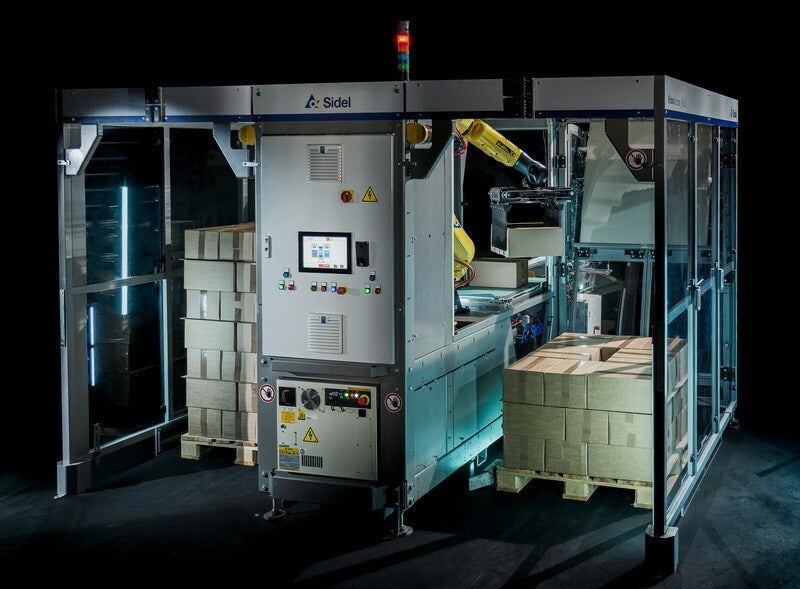 Global packaging solutions manufacturer Sidel today announced that it is expanding its palletising range by bringing to market its latest agile robotic palletising unit.
Known as the RoboAccess_Pal S, the new unit is to be presented at Interpack 2023 and Sidel says that this palletising solution delivers an improved performance for the food, home and personal care sectors (FHPC).
"We have designed RoboAccess_Pal S to deliver a solution, which offers the best of both the robotic and cobotic worlds, addressing the needs of our customers across a wide range of applications and market categories," said Fabien Chiron, innovation manager for palletising product line at Sidel.
"With more than 1,300 robotic palletising installations worldwide, Sidel has also led the implementation of collaborative robotics since 2011. We have built from this combined expertise to deliver an innovative mixed result, as well as additional brand new features."
The RoboAccess_Pal S is said to deliver speeds of up to 12 cycles a minute and its size offers businesses a new level of compactness. With three new patented features, RoboAccess_Pal S is said to be able to provide an even higher level of agility, operability, and compactness.
"RoboAccess_Pal S is available very quickly, with a ten-week delivery time. This palletising unit is very easy to ship, move around and install in our customer workshops, thanks to its movable capability with the folding guarding system and quick-release connectors for fast plug-and-play energy connection," Chiron exclusively told Packaging Gateway.
"The palletiser is also very compact, which allows an easy integration in the production line, even when the palletising operations were done manually previously in a narrow space. The monobloc unit is also very simple and user-friendly on many levels."
Sidel says that businesses would be able to see a typical return on investment within one to two years.
A recent report published by GlobalData, Packaging Gateway's parent company, stated that various technologies can help resolve issues around complicated supply chains and changing environmental regulations. According to GlobalData analysts, robotics are an increasingly important technology in the packaging industry because robots can automate otherwise unautomatable areas of the business.
"Caged industrial robots, industrial co-bots, and logistics robots (excluding drones) are the most relevant sections of the robotics value chain to the packaging sector. These robots underpin the automation of production lines and warehousing and distribution.
"Examples of these robot types include (de)palletising robots, pick-and-place robots, autonomous guided vehicles (AGVs), autonomous mobile robots (AMRs), and automated storage and retrieval systems (ASRS)," said GlobalData analysts.
"The RoboAccess_Pal S has been developed with the Sidel sustainability standard, always using the minimum amount of energy," added Chiron.