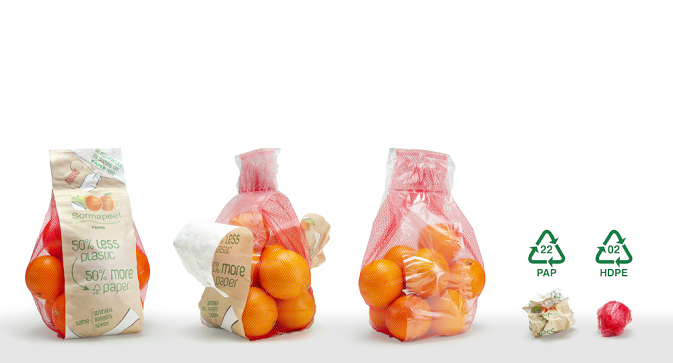 Italian fruit and vegetable packaging specialist Sorma has introduced Sormapeel, a lightweight and fully-recyclable packaging. The product was announced at fresh-produce trade show Fruit Logistica which took place in Berlin earlier this month.
Sorma, which supplies machines used to grade, weigh, and pack fruit and vegetable products, developed Sormapeel after years of research into practical and sustainable solutions for a product that would help promote the circular economy in the fruit and vegetable supply chain.
Sormapeel uses an easy-to-peel paper strip that enables customers to separate paper and plastic recycling with ease. The paper strip is strong and allows the plastic film used in the packaging to be 70% thinner than normal. The product consists entirely of high-density polyethylene and is fully recyclable.
Sorma Group large scale manager Mario Mercadini told Packaging Gateway: "It's been a long time since we started our mission to maintain sustainability. We have reduced 50% of the plastic by inventing a technique to laminate paper and plastic. The customer can peel off paper so that the paper can be sorted into paper and plastic into plastic."
Sormapeel is lightweight, with a 1kg Sormabag weighing less than a one-euro cent coin. Sormabag is an ultra-light-weight bag that will now be made using Sormapeel material.
Sorma said in a press release: "In practice, the 1 kg versions of Rosapack and Sormabag, weighing 2.79 and 2.22 grams respectively, are even lighter than clipped net bags, which weigh 2.88 grams and are not recyclable."
The product can be applied to Sorma's existing fruit and vegetable packaging machinery so no investment is needed to adapt the machines. Mercadini told Packaging Gateway: "Because machinery does not need to be changed, costs will be kept low. It's easy to use and is something new in the market as the market has been the same for a long time. With this innovation, we can have many new things beyond just the fruit and vegetable industry."
Sorma Group CEO Andrea Mercadini said: "With Sormapeel, we have won a major race against time, with great benefits for the environment. As a group, we have been working for years on the development of innovative materials and solutions to support the circular economy that is becoming more and more necessary to protect our planet's resources.
"Today, we are taking a big step forward because, in an era when plastic polymers and their future are the focus of much discussion, Sorma is offering a solution that considers the most widely different packaging-related factors: convenience, cost-saving and recyclability. The combination of these factors makes this a real solution, which can genuinely be applied to all products, and not just a small selection of specific categories such as organics. What's more, this solution is so innovative that a patent application is now pending."
Mario Mercadini said of the patent: "We are waiting for the response of the agency. We decided to present it now rather than wait one year because, nowadays, we don't have time to wait. It's important that the market and our customers know that we can do it, the packaging.
"We have adopted very commonly-used materials, so the downstream recycling system is well established, and we are able to handle them easily and dispose of them effectively, not always the case with other materials, such as compostables. Within our organisation, the Sormapeel innovation has led to a change in the production process, but we are already able to guarantee continual supplies to all interested customers, anywhere in the world."