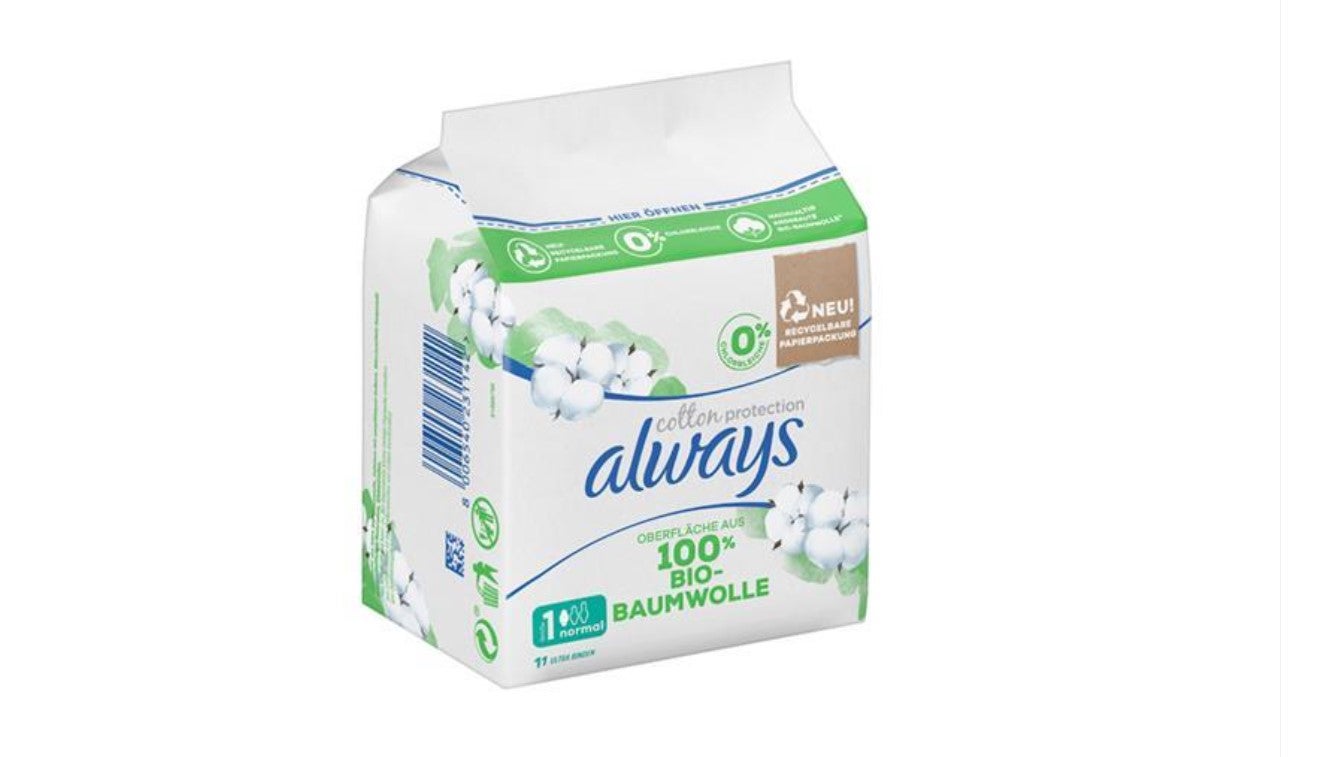 Procter and Gamble (P&G) has announced a European rollout of its Always cotton protection pads that are packaged in paper-based, FSC-certified, recyclable and sustainable packaging. 
The paper packaging packs which P&G describes as "sustainably sourced" have been distributed in France, Belgium, Netherlands, Germany, Switzerland, Austria, Sweden, Denmark, Ireland and the UK, with the packs also being launched in Spain and Portugal and the end of February.
A P&G spokesperson told Packaging Gateway: "The Procter & Gamble (P&G) Feminine Care Research & Development team is continuously working to make more sustainable improvements to our products and packaging.
"The Always Cotton Protection paper packaging was in development for two years and is fully recyclable in the paper stream across Europe. Always continues to work towards its sustainability goals which include 100% recyclable packaging, using 50% renewable or recyclable materials by 2025 and reducing virgin-petroleum-based plastics in our packaging by 2030. "
The outer packaging for the Always Cotton Protection product is said to have an advantage in terms of disposal as it is fully recyclable in the paper stream across Europe. The package is made of sustainably sourced, FSC-certified (virgin) kraft paper from Sweden, which means P&G is able to keep the full supply chain in Europe.
P&G points out the new lightweight packaging is a sustainable option as it helps to reduce transportation emissions from a global standpoint and that according to a recent ISO Life Cycle Assessment, the recyclable packaging reduces greenhouse gas emissions by more than 60% compared to a virgin fossil plastic bag across Europe.
"Always Cotton Protection paper packaging is the brand's first-ever fully recyclable paper packaging that is lightweight, robust and easily recycled in the European paper waste stream," said feminine care research & development packaging director at Proctor & Gamble, Dr Peter Kramkowski.
"Manufactured within a completely European supply chain, the package delivers responsible sourcing, manufacturing, and disposal, all without compromising on performance or protection," he continued.
P&G's lightweight design packaging was awarded the sustainability award in 2021 at the German Packaging Awards and in 2022 it received the 2022 World Star Global Packaging Award.
In March last year P&G's Indian branch was certified as a 'plastic waste-neutral' company for the fiscal year 2021-22.