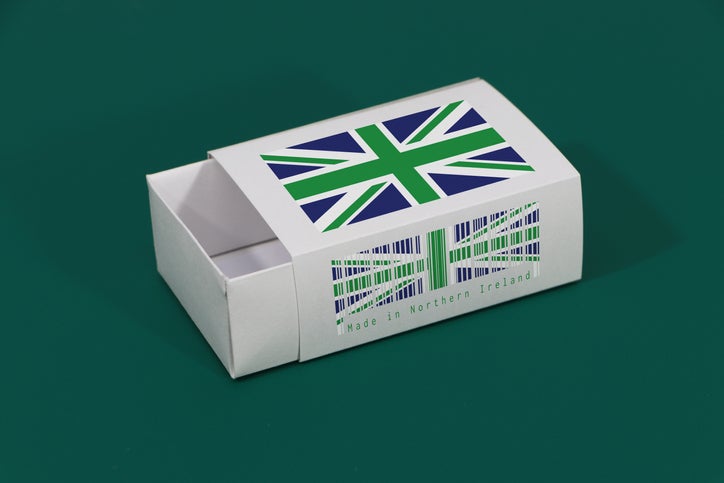 The UK and EU have agreed to amend the Northern Ireland Protocol – now renamed the Windsor Framework ­- which was initially drawn up in the Brexit withdrawal agreement to ease the issues experienced following the UK leaving the European Union.
The new framework was published today (27 February) and UK prime minister Rishi Sunak stated the new deal would "end uncertainty" for those in Northern Ireland, according to the BBC.
Ian Simpson, director of ACE Packaging, which is based in Ballynahinch, Northern Ireland agrees and told Packaging Gateway: "80% of our existing customers are based on the UK mainland, so it has been very challenging to deal with the added costs and time requirements for the custom checks that were introduced with Brexit."
In fact, he said there have been instances where his company has waited up to two weeks for goods to come from the UK to its facility based in Ballynahinch, County Down and he stated this delay was simply due to the customs check required.
He explained: "Prior to Brexit, these deliveries would have been next day. This has had a significant impact on our ability to compete with UK-based companies. Therefore, we welcome the changes regarding the "Green and Red Lane" system that will allow for no checks on goods coming to Northern Ireland. This is a step in the right direction and will once again allow us to be competitive in the UK market."
Understanding the impact of Brexit for packaging companies in Northern Ireland
Brexit instigated widespread changes in the packaging industry, including adjustments to recycled content targets and labelling.
Plus, packaging companies in Northern Ireland, which remains part of the UK's customs territory, were affected by Brexit customs laws due to the border with Ireland remaining part of the EU.
Within the original Northern Ireland Protocol, goods were checked as they arrived in Northern Ireland before they were moved into Ireland. Now, the new Windsor Framework amendment will see goods destined for Northern Ireland enter a "green lane" and remain unchecked with minimal paperwork. Meanwhile, goods entering Ireland will go through a "red lane" and be subject to checks and customs controls.