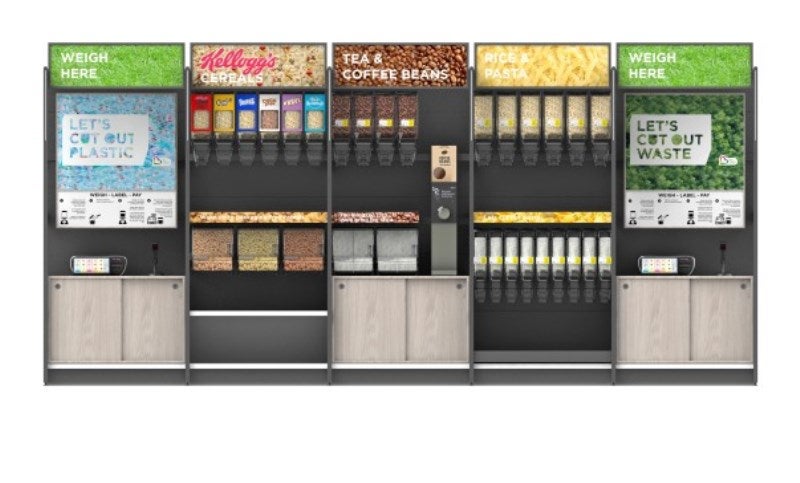 UK supermarket chain Asda has planned to conduct a 12-month trial with different sustainability initiatives to reduce plastic packaging waste.
As part of the initiative, the company's Middleton store will test new innovative ways to cut down waste, starting in May.
Prior to this, the retailer will deploy new refill solutions for its own-brand coffee, rice and pasta.
Asda has collaborated with UK consumer goods manufacturer Unilever and US food manufacturing company Kellogg's to develop refill points.
Customers can use the refill stations to fill their own containers with cereals such as Rice Krispies, Coco Pops and PG Tips tea.
In addition, a new range of recycling facilities will be installed at the store, including a reverse vending machine for plastic bottles and cans, hanger recycling and a deposit box for unwanted small plastic toys.
Asda will also test new packaging on loose products. It will eliminate mushroom, cucumber and flower plastic packaging.
Asda said: "We know lots of our customers would like to see us remove packaging on loose produce so this is another thing we will be trialling at the store.
"Throughout the trial, we will be asking customers for feedback and monitoring to see if it changes people's shopping habits. All the trials will last for at least three months and from there we can decide whether to roll it out, retrial or stop.
"We are really excited about our new sustainability store and we are looking forward to seeing how much of a difference we can make."
Last month, Asda replaced its range of steak packaging to 100% recyclable cardboard trays as part of its commitment to 'Use less and recycle more'.
Free Report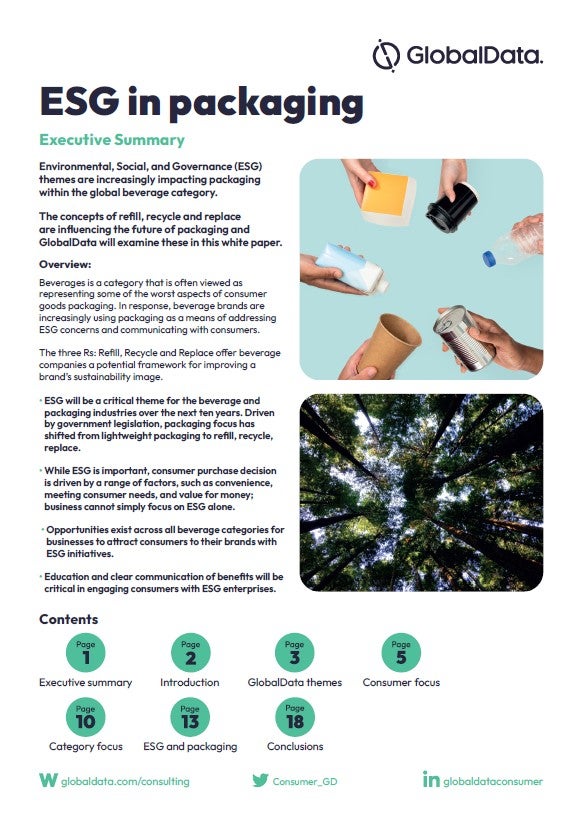 How is ESG transforming packaging in the beverages sector?
The beverages sector has already been re-shaped by increasing corporate and consumer consciousness of environmental, social and governance (ESG) issues around packaging. Now, amidst a raft of new regulations, those who get ahead of the curve may find new opportunities. Brands are increasingly using packaging as a means of addressing ESG concerns and communicating with consumers. Access GlobalData's new whitepaper, ESG in Packaging, to examine the challenges faced by companies, and understand how adapting to regulation around packaging, as well as appealing to ESG-conscious consumers, presents opportunities. The white paper covers:
Which regulations are governments looking to introduce?
How can beverage manufacturers get ahead of regulations?
How can packaging manufacturers help and how will consumers react?
What packaging and recycling innovations are required and what are the barriers to consumer engagement?
Zero in on how the industry operates in the EU and USA, exploring conclusions that remain relevant for other markets too, including Brazil, Canada, Russia and Turkey.
by GlobalData