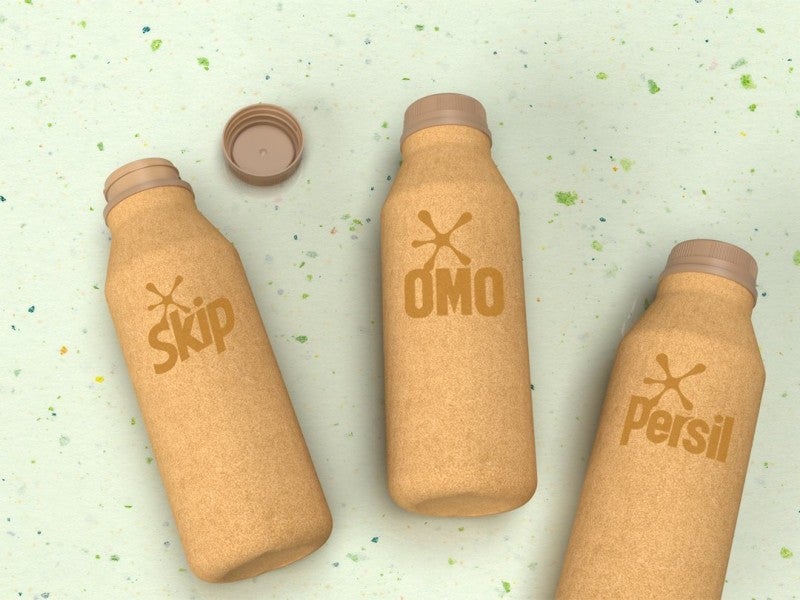 UK-based consumer goods company Unilever has developed a technology to create paper-based bottles for laundry detergent in partnership with the Pulpex consortium.
The technology ensures that the recyclable paper-based bottle, which is made from sustainably sourced pulp, is suitable to hold liquid products, including laundry detergent, shampoo and conditioners.
The interior of the bottle features a patented coating designed to resist water.
Unilever has developed a prototype bottle for laundry brand OMO, to be introduced in Brazil early next year. This will later be rolled out in Europe and other countries.
The Pulpex consortium is a collaboration between Unilever, Diageo, Pilot Lite and other packaging companies.
Unilever chief R&D officer Richard Slater said: "To tackle plastic waste, we need to completely rethink how we design and package products. This requires a drastic change that can only be achieved through industry-wide collaboration.
"Pulpex's paper-based bottle technology is an exciting step in the right direction and we are delighted to be working together to trial this innovation for our products.
"Innovating with alternative materials is a key part of our sustainable packaging strategy and will play an important role in our commitment to halving our use of virgin plastic materials by 2025."
Unilever has pledged to make all its plastic packaging fully reusable, recyclable or compostable by 2025.
Last month, Unilever announced plans to switch its entire toothpaste portfolio to recyclable tubes by 2025.
The recyclable packaging will use 220-micron materials consisting mostly of high-density polyethylene (HDPE), as opposed to the aluminium and plastic used by traditional toothpaste tubes.
In March, the company invested $15m via its North American branch to recycle plastic packaging waste in the US.
The investment was intended to help recycle an estimated 60,000 metric tonnes of packaging waste each year by 2025, equivalent to more than half the company's total plastics footprint in North America.