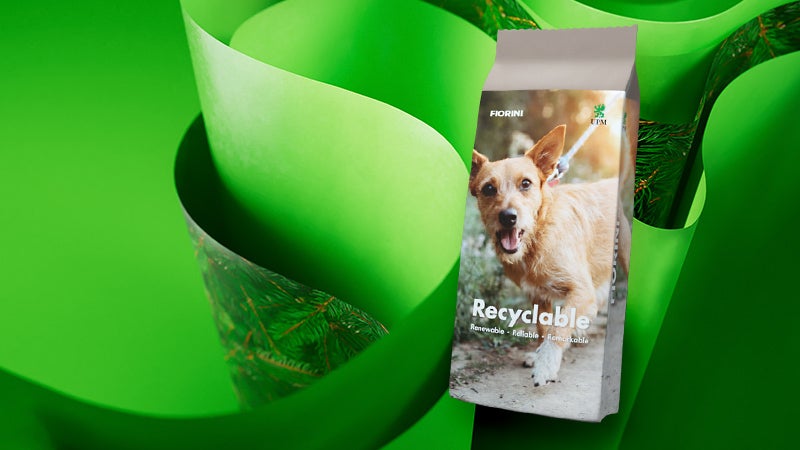 On 4 May UPM Speciality Papers, a subsidiary company of paper mill company UPM, announced the news of a partnership with Italian paper bag specialists Fiorini Packaging to develop a fibre-based sack suitable for pet foods.
UPM Speciality Papers who will be showcasing the innovation at Interpack 2023 says that due to high levels of grease, packaging pet foods can be challenging. UPM add that the standard papers typically used for pet food packaging are unable to offer the level of resistance to grease and moisture needed.
UPM added that the fibre-based sacks need to be strong and have the ability to resist external weather conditions and that until now, the normal practice saw plastic laminated paper used to meet the required strength and barrier levels.
Fiorini President & CEO, Giovanni Fiorini said:
"In this partnership with UPM Speciality Papers, we wanted to find a solution without using plastic laminates. The answer came in a unique composition that incorporated our Moistshield technology in a double layer of paper on the inside, supported by an additional UPM Asendo Pro barrier paper layer on the outside for grease resistance. This new solution is completely PFAS free; often PFASs – or forever chemicals – are needed to achieve the desired grease barriers."
"For us, it is important to work with other innovative leaders in their fields like UPM who not only understand what is possible but also share our DNA when it comes to creating more sustainable concepts."
UPM says that its UPM Asendo is a recyclable, coated, two-sided barrier paper that provides grease resistance, moisture resistance and a mineral oil barrier. They add the solution is PFAS-free and proven to be for direct contact with foods. Fiorini says that the Firorini Moistsheild was developed in its own R&D labs and is a high-tech solution that replaces the need for plastic laminates.
Fiorini added that Fiorini Packaging already developed an effective product against humidity and water but by adding grease resistance they had an opportunity to offer customers a sustainable alternative they may not have considered before.
UPM Speciality Papers Italy sales director Marco Tramontano explained: "We realised that, by uniting our technologies, we could create a new paper-based sack that could offer similar levels of moisture and grease resistance as a conventional sack with a plastic laminate layer, or even higher.
"By using UPM Asendo Pro as an additional high grease resistance barrier for the external layer, this innovation has boosted existing MoistShield properties while also offering an excellent print surface."