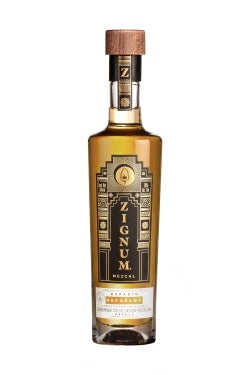 Mexico-based distillery firm Zignum is set to debut a 'symbolically rich' packaging design for its Mezcals range, including Joven, Reposado and Añejo.
The packaging was created by advertising agency and distiller Quaker City Mercantile.
Inspired by the pre-Hispanic Oaxacan temples, the new Zignum Joven and Reposado labels feature silver and gold decoration pops to honour the Oaxaca region's heritage.
Both labels feature central roundels surrounding a spear hallmarked with an agave, highlighting the company's sustainability programmes.
The packaging for the Añejo product features a rose gold 'stepped' shape, roundel and metallic detail.
It also provides information on the variety of agave used, specifically Espadín, and a handwritten notice of the product's 40% alcohol by volume (ABV) level.
All three bottles feature wooden caps referencing barrel ageing and honouring the local tradition of hand-carved alebrijes, as well as an 'elegant' strip seal referencing the distillery's wastewater reclamation programmes.
Zignum commercial director Saul Moise said: "The incredible growth of agave spirits in the US is wonderful to see.
"Consumers are looking for lesser-known brands and very eager to learn about Mezcal, particularly Mezcal from Oaxaca.
"The smooth, easy-to-drink character of Zignum is a great way to enter the Mezcal category, and the quality of the spirit shines through either solo or in cocktails."
Zignum Mezcal is currently available in the new packaging in various US states, including Arizona, Florida, California and Texas.
Suggested retail prices for the products are $60 for Añejo, $35 for Joven and $40 for Reposado.
The company uses only American and French Oak casks in its ageing.
In May, US-based packaging company Ball made its fully recyclable Aluminium Cup available at major retailers in all 50 US states.
The expanded launch of the product followed a successful trial launch that began in 2019.