4-Way Adjustable Clamp Frames and Custom Clamp Frames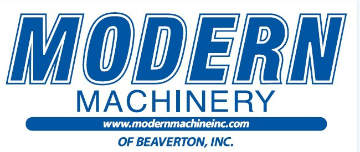 Modern's large portfolio of clamp frame options starts with the patented 4-Way Adjustable Clamp Frames.
Modern's large portfolio of clamp frame options starts with the patented 4-Way Adjustable Clamp Frames.
Modern's 4-way Adjustable Clamp Frames have a reputation in the industry for being the most robust and easily adjustable frames on the market. The 4-Way frames are adjustable to any sheet size your machine can handle without the need for tools or additional frame components.
In less than five minutes, you can change from your smallest sheet size to your largest sheet size. Modern routinely retrofits these frames to all of our competition's machines.
The frames are constructed from heavy-walled aluminum extrusion and include 2in bore high-heat cylinders on a maximum of 12in centres. This setup provides 250lb of clamping force for every linear foot of clamp frame.
The heavy-duty cylinders transfer force into the serrated teeth on the clamp bars to provide maximum gripping force into your sheet. This allows the end user to reduce their sheet size. The 4-Way Adjustable Clamp Frames will clamp material as thin as a sheet of paper and as thick as 0.500in.
Customers find that investing in the 4-Way Adjustable Clamp Frames system offers them a quick return on their money. Changeover time is reduced to five minutes per bay. Storing additional frame sections is eliminated because these frames are completely adjustable without tools.
The strong clamping force and rigid construction allow customers to run a smaller sized sheet providing savings in material reduction.
Custom-Engineered Clamp Frames
For customers with high demanding applications large depth of draw, excessive sheet sag, material wrinkling) Modern offers custom engineered clamp frames systems.
Modern has a long history of solving processing issues through custom clamp frame designs. We routinely provide articulating options to optimise sheet sag and reduce material thinning during the forming process, as well as motorised clamp frames that can adjust sheet size while in process.
Zoned clamp frame systems, an available option, can be programmed to sequentially open the clamps to reduce wrinkling on certain materials. If you're looking for a better clamping system please give us a call.
Let Modern Machinery give you the competitive edge. Allow us to design and build a custom solution to meet and surpass your process requirements.