Modern Machinery of Beaverton provides custom thermoforming machines, specialising in the design and manufacture of unique equipment systems to meet specific requirements for clients in the packaging industry.
The company has established an international reputation for quality, quick response times, and its highly skilled workforce.
Bespoke thermoforming machines
Modern Machinery's standard line of rotary thermoforming equipment includes both three and four station machines. We offer three-station rotaries with basic vacuum former and high-pressure capabilities. We also offer four-station, twin sheet equipment.
Customisation services are available upon request. Typical features include servo driven platens, wheel and load tables, state-of-the-art control systems and the latest in infrared (IR) heating technology.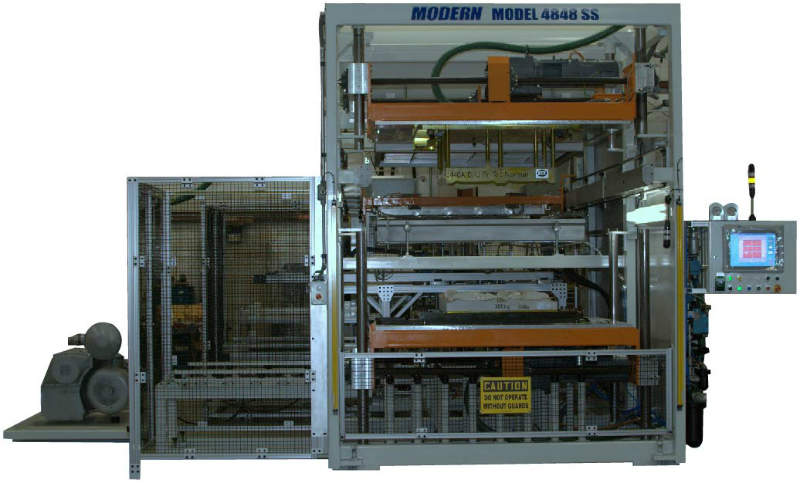 Modern Machinery provides customised thermoforming machines to meet specific requirements.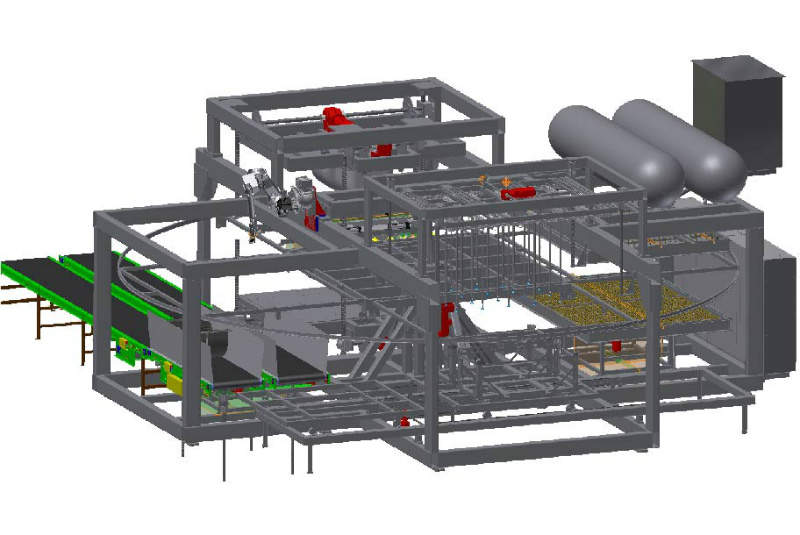 Modern Machinery's complete line of rotary thermoforming equipment covers both three and four station machines.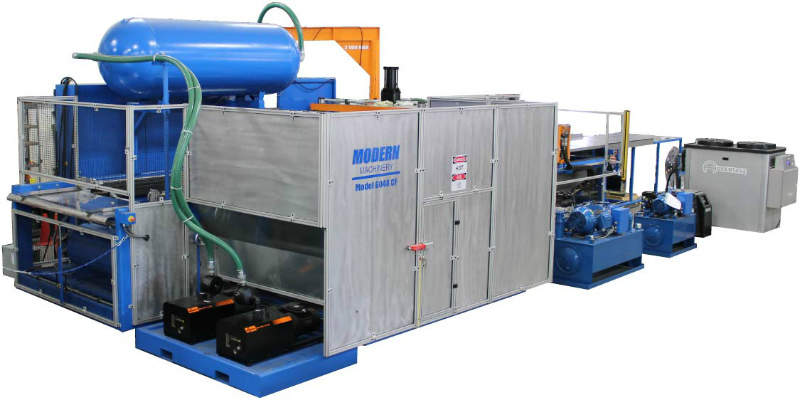 Modern is a recognised name in the design and manufacture of bespoke, continuous inline forming machines.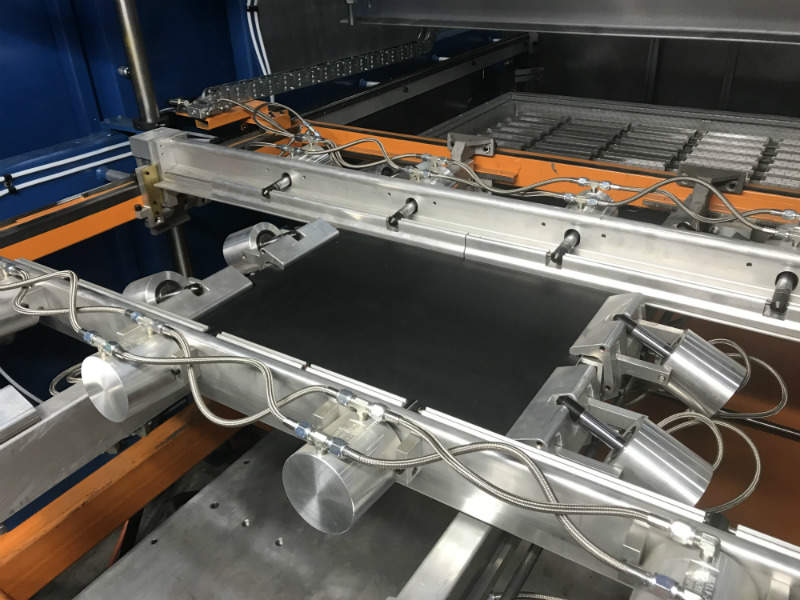 Customised clamp frames can be provided to operate in the most demanding industrial environments.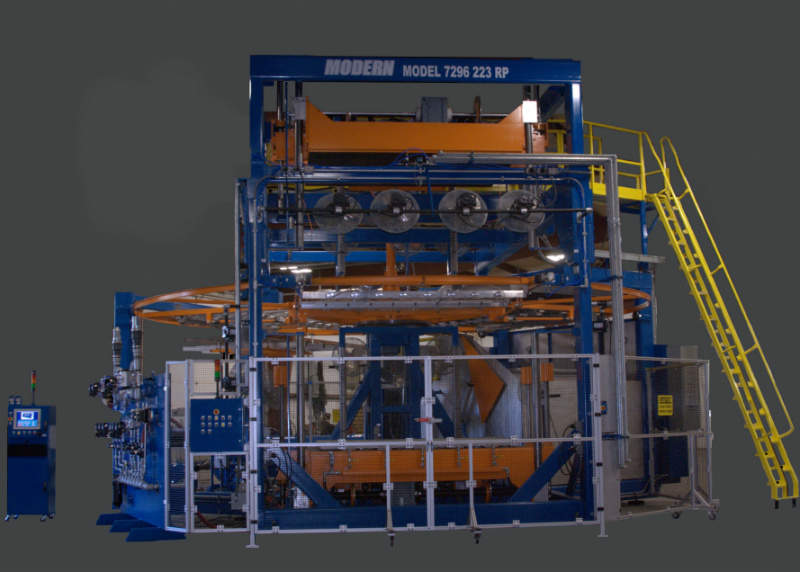 Modern Machinery of Beaverton provides industrial pressure rotary equipment.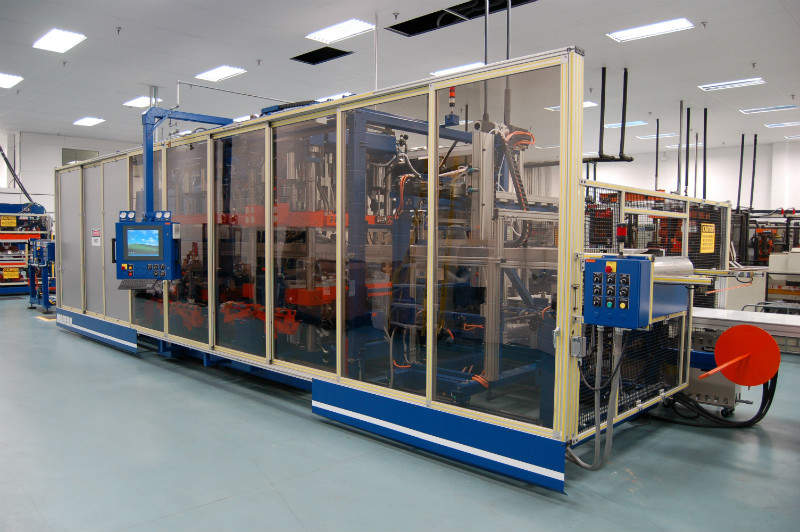 Modern Machinery of Beaverton provides electric, inline bargers for the packaging industry.
Modern provides an extensive range of vacuum and pressure shuttle forming machines. The sheet cars index cut-to-size material into the heat station, then into the form station. Options offered by Modern include high-pressure, double-end, and auto tool changers.
Continuous inline forming machines
Modern has a long history of designing and building custom continuous inline forming machines.
Our inline machines come with a standard roll-stand and motorised nip-feed un-roller. We provide offer a servo indexing system with #50 Diamond pin chain for transferring the material through the multi-stop oven, form, and trim stations.
Ovens can be customised to suit individual customer's requirements with multiple stops, zoned IR heating elements, and either a clamshell opening or C-shaped roll-out system for machine shutdowns and maintenance. Form and trim stations can be designed with either pneumatic, hydraulic, or electric operating systems depending on the client's preference.
Adjustable clamp frames for packaging production lines
Modern's comprehensive range of clamp frames begin with the patented 4-Way Adjustable Clamp Frames. Modern's 4-way Adjustable Clamp Frames have a reputation in the industry for being amongst the most robust and easily adjustable on the market.
The 4-Way frames can be adjusted to any sheet size your machine can handle without the need for tools or additional frame components. In less than five minutes, you can change from your smallest sheet size to your largest sheet size. We routinely retrofit these frames to all our competition's machines.
Customers find that the 4-Way Adjustable Clamp Frames system offers them a quick return on investment, with changeover time reduced to five minutes per bay.
In addition, we offer customised clamp frames to meet high-demanding applications. If you get in touch with your clamping requirements, we will create a solution.
Modern auxiliary equipment
Our engineers relish taking on new challenges especially when it comes to automation. We build assembly equipment, trim presses, and roll-cutting machines to name a few.
If you are in need of a piece of automation equipment for your facility, get in touch by filling out the enquiry form on this page.
We can provide anything from simple hydraulic trim press, to a state-of-the-art ultrasonic trimming station. We can customise a machine to meet the exact needs of your application.
About Modern Machinery
With 35 more than years of designing and manufacturing experience, we understand the importance of working together as a team to develop the best solutions for your specific process.
Our highly experienced mechanical and controls engineers draw on their knowledge and know-how for every project. The craftsmanship of a Modern thermoformer speaks for itself, with a reputation for quality from start to finish, using only specially selected materials for our equipment.
We build machines that last, giving you many years of service. When you purchase a machine from Modern, you are safe in the knowledge that you are buying the highest quality the industry has to offer.
Get in touch to receive a competitive edge by allowing us to design and build a custom solution to meet and surpass your process requirements.