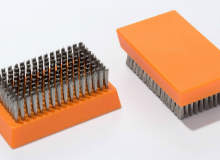 Flexo Concepts' anilox and plate cleaning brushes help with quick and easy clean-up of anilox rolls and plates.
The bristles loosen all types of dried ink and coating residue and enhance the effectiveness of the cleaning solution.
Anilox cleaning brushes are available in stainless or brass with a variety of bristle thicknesses.
The photopolymer and rubber plate brush is constructed with horsehair bristles which have quick bristle recovery, high heat resistance and low water absorption.
All brushes have durable plastic handles to extend life.