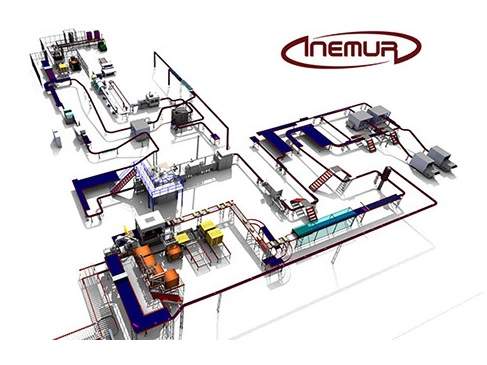 To obtain the maximum efficiency in the production line, communication and equipment integration is as important as the quality of the machines.
INEMUR has specialised in the design and integration of bespoke solutions for packing of different products:
Manufacture of pieces tin cans (food cans, sprays, etc)
Packaging of powder products (milk, coffee, cereals, chocolate, etc)
Packaging of liquid, thick and viscous products (water, wine, juice, milk, oil, baby food, sauces, pulp, mayonnaise, syrup, creams, shampoo, gel, etc)
In addition to machinery, we offer a complete service of Project Management with huge advantages for our clients:
Completely understanding the clients' needs
The responsibility of the project is focused on a single business
The coordination and communication during the execution of the Project is easier for the client
Users see more cost savings
Direct and personalised service with INEMUR project managers
With a team consisting of specialised professionals who contribute to higher productivity and efficiency rates, INEMUR designs our lines considering the following criteria:
Maximum use of available space
Perfect synchronisation between the line equipment
Low operation and supply cost
Accessibility for the supplies of products and consumables
Facility for maintenance and cleaning
We are also experts implementing lines and equipment with a clean design when required.
We may complement our lines with monitoring systems such as supervisory control and data acquisition (SCADA) and manufacturing execution system (MES) for the efficiency measurement.
Today, many of our clients consider INEMUR as a part of their own engineering department and our mission is to help them to obtain greater profitability of equipment and lines installed.
Therefore, we strive to fully know their needs and solve them professionally and quickly.