Ingenieria Electromecanica Murciana (INEMUR) designs, develops and offers installation and automation services for specialised equipment for the handling of containers, packaging and storage applications.
We bring effective and innovative solutions to achieve improvements in efficiency and productivity, while reducing costs and optimising processes.
In order to meet your requirements, we combine our experience with our wide range of automatic and semi-automatic equipment. Solutions include specialised containers, pick-and-place solutions, pallets, coding and labelling systems, in addition to monitoring and serialisation installations.
High-performance packaging for liquids, dense or viscous products
INEMUR is experienced in the design and integration of comprehensive packaging systems for liquids, as well as dense products such as beverages, oil, baby food, yoghurts, sauces and fruit pulps.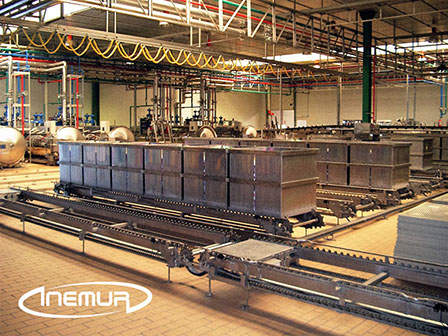 INEMUR provides bespoke automated solutions for the packaging sector.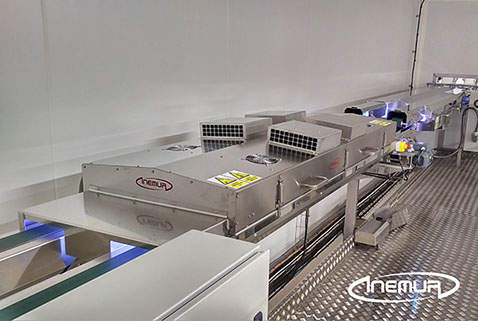 Our collaboration with PLF International enables us to offer bespoke packaging systems for powders and granules.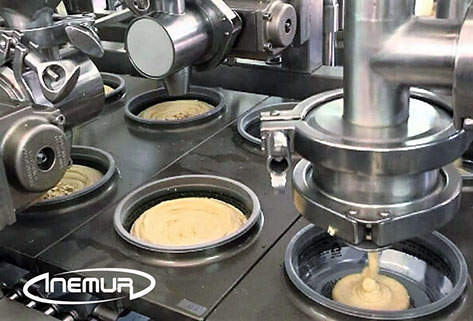 Our portfolio includes packaging systems for a wide range of liquids.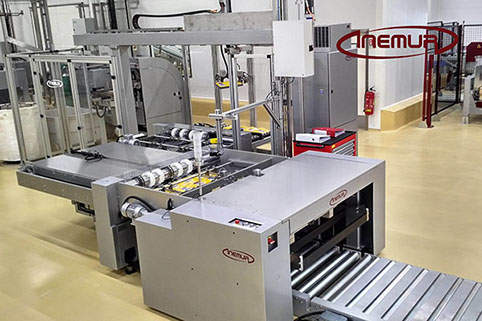 We manufacture three-piece tin plates for the food industry.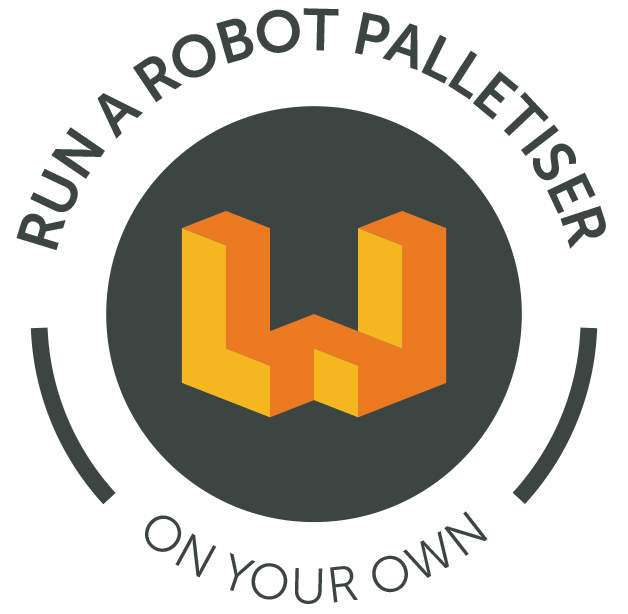 Run a robot palletiser on your own with Wepall.
We collaborate with packaging system manufacturers to deliver custom-engineered installations that comply with our construction and operational specifications to ensure optimal efficiency and productivity.
INEMUR is also proficient in integrating processes in quality, clean designs, and safety, as well as infant feeding processes.
Powder filling installations
INEMUR has established a strategic alliance with PLF International for the design, integration, and manufacture of collaborative bespoke systems for packaging powders and granules.
Our lines provide high-quality packaging, along with efficient and productive processes for the infant milk sector, and are consistently supported by a skilled team of professionals.
In addition to engineering and installation of bespoke lines, INEMUR offers a comprehensive project management service, which oversees the integration and coordination throughout the project lifecycle to achieve the client's objectives.
We specialise in capturing real-time data and providing full process traceability to allow you to offer products with enhanced assurance.
Metal can manufacturing equipment
INEMUR designs, manufactures and installs equipment and line endings to develop metal packaging.
We have extensive experience and expertise in managing large bespoke projects, as well as the capacity and resources to manufacture three-piece tin plates for the food industry.
We work with leading manufacturers to create complete lines, which are integrated with performance criteria and advanced synchronisation equipment.
We also specialise in manufacturing processes cans for packaging high-quality products that need specific quality control, sanitation and ultraviolet sterilisation measures when necessary.
Standard and bespoke packaging services
With a strong international presence, INEMUR focuses its activity on the development of standard and tailored solutions mainly applied to:
Design, manufacture, and installation of machinery and equipment
Technical direction of projects
Lean management
Continuous improvement
We have currently consolidated itself as a serious and reliable alternative for those who look for commitment, trust and professionalism, our main objective is for our clients to consider us part of its own engineering team and to establish with them an intense and productive collaboration to provide both major successes in common throughout the years.
About INEMUR
INEMUR was established in 1990 to meet the requirements of the automated tin can packaging and manufacturing field in Murcia but soon expanded to cover the whole of Spain.
Since 2010, we have offered bespoke complete lines in medium and high production processes, establishing it as an international supplier in the packaging industry.
In addition to a wide range of our own equipment for packaging, containers and pallets handling with an international reputation, our industrial collaborations allow us to complete and integrate high-performance complete installations.