Newtec Checkweigher: Check Point Series, QC90-2

Application: products in bags, punnets, trays and similar packagings.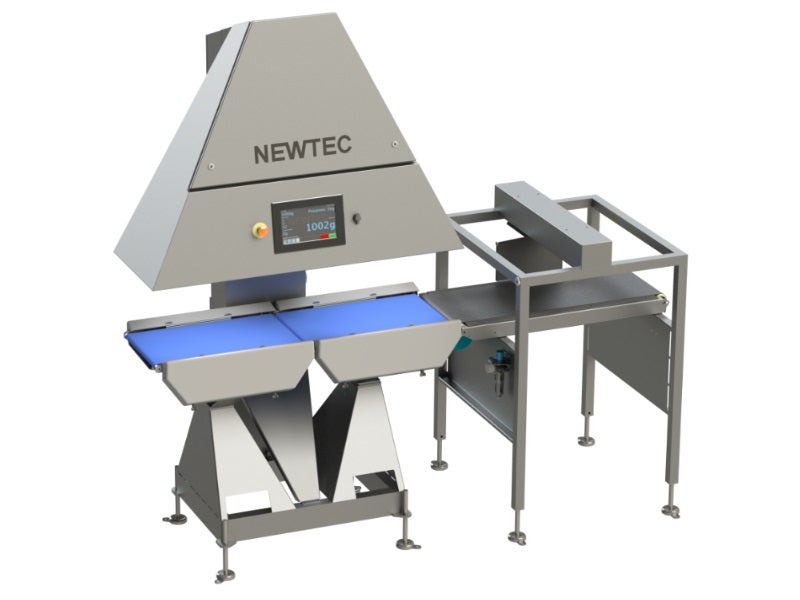 Application: 
Products in:
Bags
Punnets
Trays and similar packagings
Newtec has developed a new vision-based end of line quality inspection device incorporated in our high-performance Check Point QC90-2.
Equipped with our state-of-the-art vision systems, the Check Point measures and assesses a whole range of criteria in addition to weight, such as checking the packaging material and the product angle on the belt. 
Advantages:
In-line Checkweigher with high-accuracy
Vision control for loose product detection and product separation
Container validation (form, size, colour, orientation)
E-weighing, "minimum- and e-weighing mode"
WebServices available for remote servicing and for capturing production data.
MachineLink enabled, from only one touchscreen, either on our checkweigher or our weighing machine, recipe change and start/stop for both machines is possible
Designed according to OIML R51 and approved according to the European Measurement instruments Directive (MID).
Capacity: up to 90 units per min.
Material: according to the EU rules on food contact materials
Air requirement:
Connection: 3/8in
Min pressure: 6bar (0.6Mpa)
Consumption: 50NL/min.
Electrical requirement: 3×230 VAC or 3×400 VAC (N) PE 50/60Hz 3kW
Environment: 5°C-35°C
Weight: up to 295kg
Packaging-gateway.com spoke to Newtec to answer some of the frequently asked questions that every customer has before investing in automatic weighing technology.
The purchase of industrial weighing and sorting machinery for food packhouses is a high capital investment that needs to be carefully researched and considered.