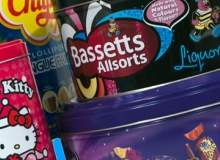 Confectionery
Crown's shaping, printing and finishing technologies provide confectionery brands with the creativity and freedom of choice to develop visually engaging and reusable decorative tins.
Metal tins can be shaped into almost any form you can imagine; robots, cars, shoes or even animals. With the help of embossing and de-bossing techniques and other decorative options, packages can easily become unique promotional and marketing tools.
Promotional
Crown specialises in developing promotional tins that are both visually appealing and fully functional.
Plastic or mesh windows enable consumers to view the product without opening the metal tin, metallic finishes add a touch of luxury to premium formats and interior inserts keep customers informed without affecting the look of a package.
Biscuits
Biscuits come in metal tins of all shapes and sizes, from eye-catching, original shapes and colours, to subtle premium designs. The decorated tin highlights the unique qualities of the product inside and serves as a major differentiator at point of purchase.
Crown uses the latest technologies such as shaping, closures and decorative finishes to create the desired impact in a promotional tin to attract customers at the crowded retail shelf.
Wines and spirits
Whether it's strikingly innovative or an old classic, the right tin will lift your packaging above the competition.
When it comes to wine and spirits, consumers expect a package that hints at the unique and luxury product within, without showing too much. Whether its whiskey or brandy, port or champagne, Crown's packaging solutions entice consumers from the first glance.
Cosmetics
Highly specialised, highly visual and highly prized, decorative tins are made for the demanding market that is cosmetics. From perfumes to face powders, creams to gels, cosmetic packaging must be secure and portable, but also a luxurious treat for consumers.
Luxury colour finishes and textures breathe life into traditional metal tins. Embossing and printing technologies make brands stand out without going over the top.