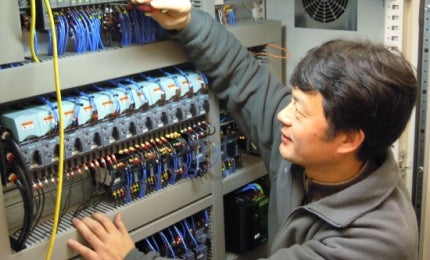 The Atlas customer support team provides a wide variety of services to enhance customers' operations throughout the life cycle of all Atlas and Titan equipment.
Atlas and Titan service is deployed from our head office in the UK or via skilled service engineers based in regional sales and service centres in North America, China and India.
This enables technical assistance to be available 24/7 on a global basis to help customers when it matters most.
Services include:
Spare parts: Atlas can offer assistance in identifying the correct part and supplying 100% guaranteed, genuine spare parts via stock held in regional locations worldwide
Service support: 24/7 support via experienced engineers; teams of service engineers are available to provide local support at the customer's site as and when required
Remote connection: all Atlas and Titan slitter rewinders can be supplied with the capability for remote connectivity via a secure network, which enables engineers to provide diagnostic support on equipment
Retrofits: support is available to extend the life of existing installations by upgrading equipment, removing obsolescence, improving productivity and improving machine safety
Machine relocation: in today's ever-changing world of business, operations are expected to be increasingly flexible and dynamic; Alas can assist by providing a full service for relocation, commissioning and start-up of existing equipment
Training: the Atlas service team has many years of cumulative technical and process knowledge, which enables tailored training packages to be provided at the customer's production site or in-house at Atlas
Atlas and Titan can offer a lifetime of support, working in partnership with customers' production and technical staff to ensure optimum productivity for future business performance.
TC Transcontinental is Canada's largest printer, with operations in print, flexible packaging, publishing and digital...