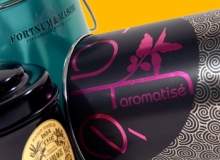 Nutritional powders
With its hermetic seal, metal is ideal for maintaining product integrity.
Decorated tins for infant formula and powders don't just look good on the shelf. With air-tight seals and superior light-blocking qualities, metal tins ensure that products are kept fresh and dry.
Edible oils
Tinplate packaging can enhance your brand image while providing robust and effective protection for your product.
Functionality and design go hand-in-hand with Crown's shaping technologies and opening options for metal tins. From bold or subtle colours to sleek finishes and shaped openings, these decorated tins will look good on any shelf.
Dry beverages
These high-quality containers enable your premium brands to stand out while providing optimum protection.
Add a sparkle or a touch of luxury to every day metal tins with advanced shaping options, sleek finishes and variety of opening options, for decorated tins that look good while still providing complete functionality.
Syrups
Crown's process enables the creation of exciting shaped containers for dilutable soft drinks.
With advanced shaping technology, these metal tins are easy to hold and easy to pour, minimising waste and mess.
Whipped cream
Steel aerosols are extremely durable and offer consumer-friendly product dispensing. They protect the product in optimum conditions.