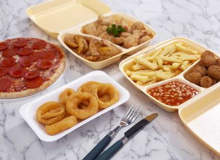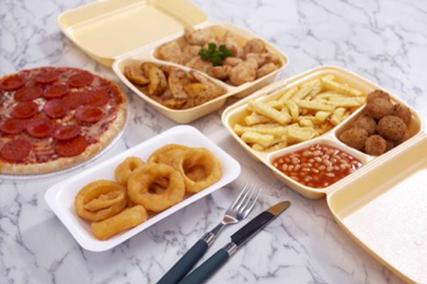 For the fast food and hospitality events operator, LINPAC offers a wide range of hinged boxes and trays, which are ideal for a hot snack on the go or takeaway meal.
Manufactured from expanded polystyrene (EPS), HOTpacs have been designed to keep contents warm and their unique air flow technology prevents foods, such as fish and chips, going soggy or sticking to the box, ensuring customers can enjoy the same quality food as they bought on site.
Available in a variety of sizes, with single or multi-cavity designs, HOTpacs ensure food is well-presented and provides for accurate portion control to maximise profits, while cutting costs and food waste.
They are stackable and easy to fill and serve, speeding-up service in the hectic catering environment.
HOTpacs are also the lowest carbon footprint packaging option available and do not produce any greenhouse gasses if they are disposed of in landfill. In addition, the energy consumption used in their manufacture can be recovered through incineration.