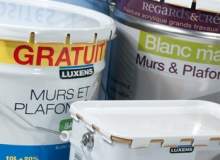 Automotive
Metal containers are tough, durable and ideal for housing a variety of automotive products. Crown's shaping, printing and opening technologies help brand owners fully optimise the power of metal tins; serving a functional role and as a brand-building tool capable of delivering a decisive competitive edge.
Household
Crown's robust containers can store aggressive products safely, while still proving attractive to consumers.
The strength and reliability of metal tins are necessary attributes for packaging chemically complex products that are often stored in less-than-ideal conditions, including basements where drastic humidity and temperature fluctuations are common.
At the same time, advances in finishing and shaping technologies allow the outward appearance of the metal tin to take on special importance for industrial brands where consumers directly associate shelf appearance with product quality.
Dangerous goods
Crown solutions are ideal for carrying dangerous goods anywhere. We work closely with administrative bodies and comply with current legislation.
Chemicals
Big, strong and safe, Crown industrial containers provide a high-quality and reliable container for chemical products.
The internal coatings on metal tins help guard against corrosion and oxidation. Combined with advanced seaming technologies, tins can provide a tighter seal that protects contents more effectively from exposure to light, air and humidity.
Sensitive chemical products that are packaged in metal tins often exhibit considerably longer shelf lives; a key advantage for industrial products, which are often stored for extensive periods of time.
Paints and coatings
Packaging is an essential element in the success of products such as paints and coatings. Metal tins excel in this category thanks to their durability and ability to maintain product integrity.
Versatile metal tins maintain their core benefits while also incorporating value-added features, which enhance consumer convenience and boost visual appeal. Easy to open and to close, metal tins can be made tamper-proof and leak-proof, without inconveniencing end users.
Metal tins offer logistical efficiencies, such as impact-resistance, stackability and machinery compatibility. This contributes to supply-chain efficiency by guaranteeing that paint and coating products are protected without risk of accidental leakage or spilling.