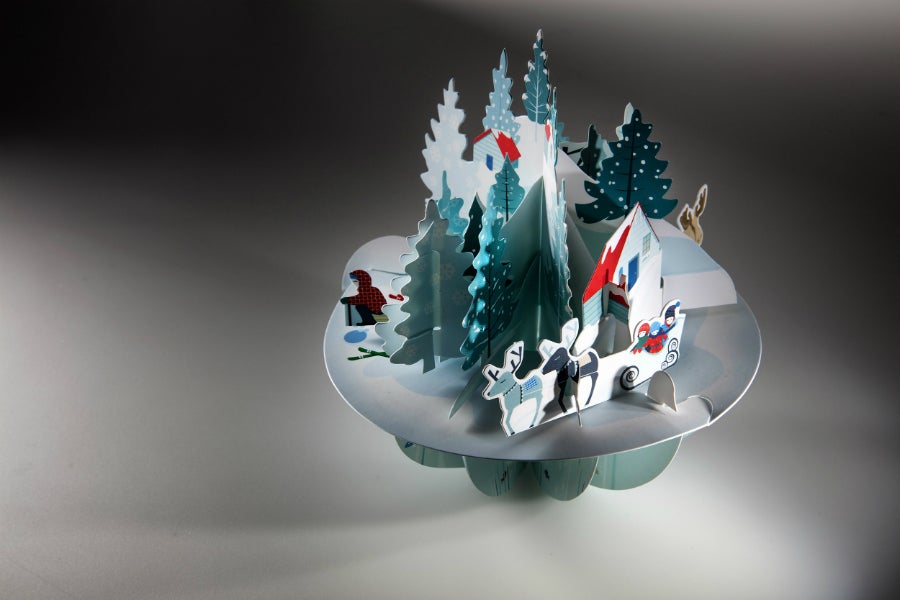 2015's Christmas Card from Iggesund Paperboard is printed on Invercote Creato 350 g/m² with printing and assembly by Santoro Graphics.
---
Invercote Creato offers outstanding aesthetic printing properties on equal, fully coated sides. The smooth surface is tailored to faithfully reproduce the most sophisticated printed images.
Combined with excellent structural characteristics, this makes Invercote Creato ideal for the most demanding graphical and packaging applications. With better production efficencies, package design functionality and print reproduction, it pays to use nature's best paperboard.
The beauty of pure, natural packaging
Excellent foiling and embossing results are enabled by Invercote Creato's smooth surface and excellent mechanical properties. In short, a material that always makes an impact, on the shelf or in the hand of the consumer. Deep embossing can add an extra touch of class to premium packaging and printed matter.
Invercote's high quality virgin fibre and multi-ply construction absorb the stress of the embossing process allowing for deeper, more tactile impressions. The whiteness level is tailored to ensure the best print contrast and colour reproduction properties required for high-end print productions. A patented coating formula provides outstanding lightfastness, giving the end products a longer life.
Thanks to its composition of solid bleached primary fibres, Invercote Creato has a superior strength and toughness compared to board grades that contain mechanical or recycled fibres or single-ply bleached primary fibre board. This strength gives several advantages in designing and producing of brochures, covers and cards of various kinds.
In addition to traditional printing techniques, Invercote Creato is qualified and certified for most digital printing presses on the market today and suitable for digital finishing technology. Due to the excellent consistency of Invercote Creato, its performance is predictable and reliable, making repeat print runs with the same machine settings and excellent print results possible.
This year's Christmas card from Iggesund Paperboard is an example of extreme complexity. The UK...