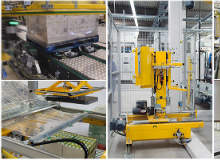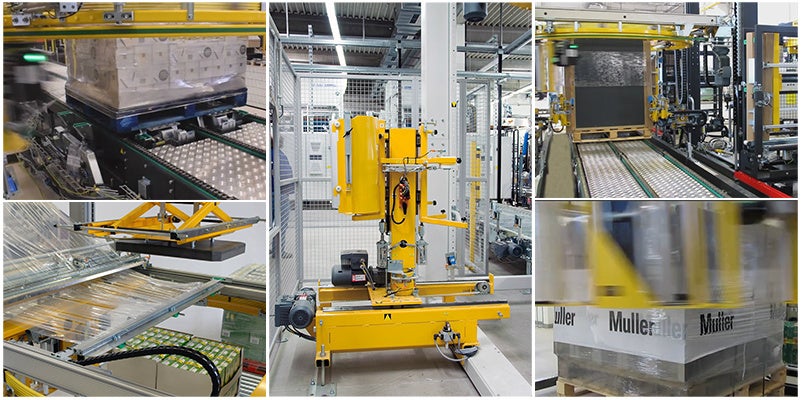 Thanks to the structure of Octopus models, standard options are based on the Octopus manufacturing philosophy: modularity.
Tailor-made machines can be done by using standard, well-proven modules such as integrated top sheet device, corner post device (CPD) and automatic reel change system (RCS). LogoWRAP™ option is a good example of an added value received by packing. The customers get more visibility for their brand and company.
Integrated Top Sheet Device
To cover load either by using dustproof programme or waterproof programme. Key advantages compared to separate top film dispenser are:
Accurate top film positioning, high packaging quality
Possibility to have both dustproof and waterproof wrappings
Smaller footprint compared to a separate unit
Production reliability
Load stacking proof, solid top cover without any film seaming
LogoWRAP™
A well-proven system for inserting printed stretch film to a pallet load during the normal wrapping cycle. The system includes a special film carriage for printed film. LogoWRAP™ is ideal for a product brand or company logo.
One shift concept: Automatic Reel Change System
Automatic Reel Change System consists of a number of cassettes with stretch film reel, a manipulator and a magazine for storing the cassettes. When the system senses lack of wrapping film, it automatically changes the film cassette and the wrapping continues without manual intervention. In one shift concept number of spare film reels is specified based on a need for eight hours.
The new film reel is replaced outside of the system without machinery shutdown, providing improved safety for the operators.
Roping system with pallet lifter
The roping system enables efficient total pallet to load retention. This solution requires a film lower edge roping device in the film carriage and a pallet lifter integrated into the conveyor system. The roping device lifts lower edge of the film about 80mm while Octopus is wrapping the bottom layers.
The roping system is an ideal solution for tissue products, soft drinks, empty PET bottles, inboard loads etc.
Corner Post Device
Fully automatic four corner protection for variable load dimensions. The system comprises four corner post magazines and four gripping / transfer units. Each unit uses photocells to detect the pallet corner and each post is positioned accordingly. Octopus ties the corner posts to the pallet load.
Corner Post Device is an ideal solution for wrapping e.g:
Milk or juice cartons packed without corrugated boxes
Other packed consumer goods (e.g. confectionary products)
Fine paper sheets
Display pallets (caseless packaging) etc