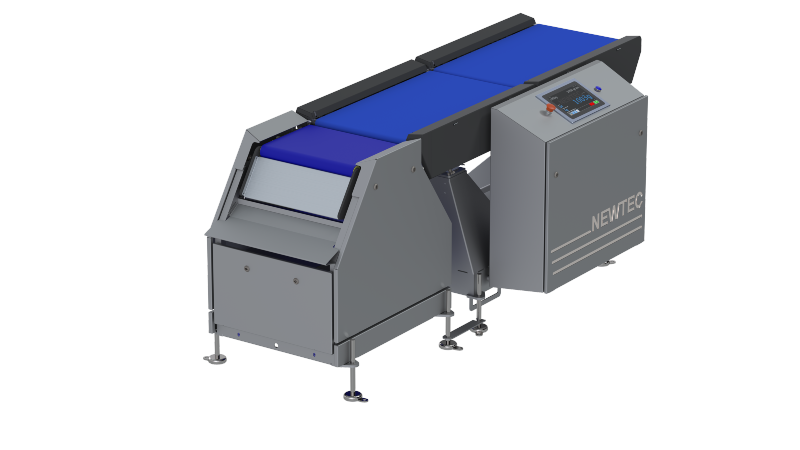 Weight control for larger products and portions
Advantages
In-line Checkweigher with high accuracy
Large portions (Up to 10 kg. at 60/min.)
Minimum- and E-weighing mode
Fast in-line dropdown-reject to box
Reliable and easy to maintain
Easy recipe control
Adjustable speed
Robustly constructed in stainless steel
Extremely durable and accurate load cell
Option: Newtec WebServices for remote servicing, data collection and analysis
Option: Newtec MachineLink for easy control of more Newtec machines from only one touchscreen
Application
Products in boxes • Punnets • Paper bags • Plastic bags
Net • Netting bags • Similar packings
Specifications
Designed according to OIML R51 and approved according to the European Measurement Instruments Directive (MID).
MID accuracy class         XIII(1)
Weight and dimensions of applicable packaging:
Max. weight: 11kg
Min. weight: 2,5kg
Max. Product length: 600mm
Max. Product width: 400mm
Max. Product height: (lockable bin) 300mm
Capacity: Up to 80 units/min, limited to 60 units above 6kg.
Material: According to the EU/FDA rules on food contact materials
Electrical requirement: 3×220 VAC or 3×400 VAC (N) PE 50/60 Hz 3 kW
Environment: 5ºC – 35ºC
Weight: 450kg (weigher only)
Newtec Software
Intuitive user interface
Informative and upgradeable
The same user interface on all Newtec weighing and packing machines