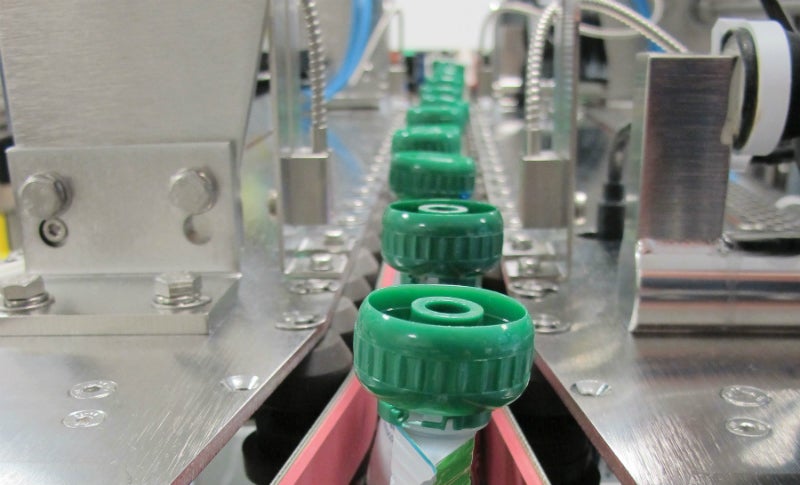 The PRO Series Dual Sensor Compression Twin Belt (TB) sensor is specifically designed for pouch inspection. The patented technology is designed to identify and reject leaking pouch style containers caused by defects in the seams or fitment closure.
Features:
Belt Speed 25ft-350ft/minute (7m-106m/min)
1,500 containers/pouches per minute
maximum
Variable speed belts
36in to 76in conveyor height
230VAC or 460VAC power
15psi pressure sensor calibration
NEMA 4X, IP65 Washdown
304 stainless-steel
How it works
The TapTone PRO Series Pouch Inspector system finds and rejects leaking and damaged pouches at production line speeds up to 200 feet per minute. The patented system is designed with dual pairs of parallel belts suspended over the customers' existing conveying system. As the pouch passes through the system, the dual pairs of parallel belts apply force to the sidewall of the pouch.
This action increases the internal pressure of the pouch, evacuating a small amount of product out any leak areas, thus allowing a comparative measurement to be taken at both the infeed and the discharge of the system. Comparing the pouch to itself eliminates typical variations seen in the production environment (Fill Level, Product Temperature, and Seal width).
Utilising advanced DSP technology the TapTone PRO Series controller analyses each of the individual sensors as well as their comparative measurement and assigns three resulting merit values to each pouch. If any merit value is outside of the acceptable range, a reject signal activates a remote reject system.
Applications:
Stand-up Pouches
Micro Leak detection in flexible containers
Leak Detection for Closures Plastic Fitment
Induction Seal Leak Detection for Containers
Specification

Description

Operating speed

up to 1,500 Containers per minute

Conveyor height

36in to 76in conveyor height adjustment

Container/pouch size range

4in (101mm) minimum container/pouch height

17in (432mm) maximum container/pouch height

5in (127mm) maximum container/pouch width

Shaft encoder

Stainless steel/IP65 Rated

AC line voltage

230 VAC, 1 phase (standard) or 460 VAC, 3-phase (optional)

Reject outputs

Up to two Segment8 Soft Reject outputs per machine

Multiple sensor capability

Integrates up to four primary inspection PRO Series sensors (Dual Compression, Proximity, Vision, X-ray)

Material and control enclosure

Wash down: fully sealed to withstand wash down

Enclosure environmental rating: stainless-steel NEMA 4X IP65 rated

Human interface: 12in colour, touchscreen PC, IP 65 rated