RB2: Compact and Flexible Dual-Shaft Slitter Rewinder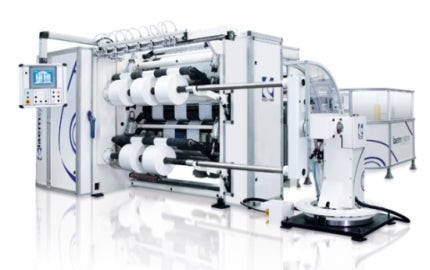 For a medium-sized or large converter who needs to produce finished rolls with a flat edge and consistent tension ranges, the modular RB2 is the ideal solution, allowing integrated features, such as perforation or laser scribing. With its shaftless unwinder and over-head web path, the RB2 is equipped to handle rolls with larger diameters, while leaving good access to the slitting section and protecting the web from contamination.
The RB2 is also able to mount the following slitting configurations:
Oscillating razor blades in-air
Razor blades in-groove
Shear cut: circular knives and counter knives, normally used for heavier laminates with aluminium or paper
The counter knife shaft is always pneumatically expanding and filled with multi-counter-knives bushings
Welcome to the future of converting integration and automation, the intelligent factory.