RB4: Dual-Shaft Slitter Rewinder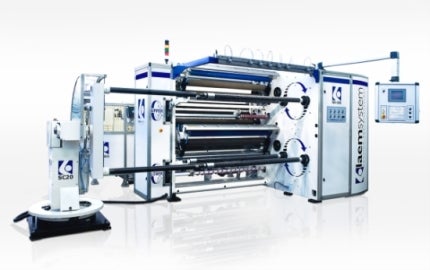 Film manufacturers and converters who need to produce several finished reels of relatively small diameters can benefit from this centre-driven slitter rewinder.
The RB4 drastically reduces cycle downtime, as the operator places the new cores on the idle shafts with the aid of a laser pointer, while the machine is rewinding.
The slitter rewinder's automatic turreting sequence starts when the rolls reach the set diameter or length, allowing the operator to unload the finished rolls from the shaft while in stand-by. With the laser pointer indicating the set slitting positions, the operator loads the cores around this shaft, which will then be ready for the next cycle.
The unwinder is an independent unit, which can be equipped with extra devices, such as:
Splicing table
Flag detector (for handling waste spans of the parent roll)
Register mark counter (for counting the printing repeats)
Welcome to the future of converting integration and automation, the intelligent factory.