Starsaver®: An Environmentally Beneficial Alternative to Aluminum

Within environmental management, the reduction of the carbon footprint has become a major target of Folienprint.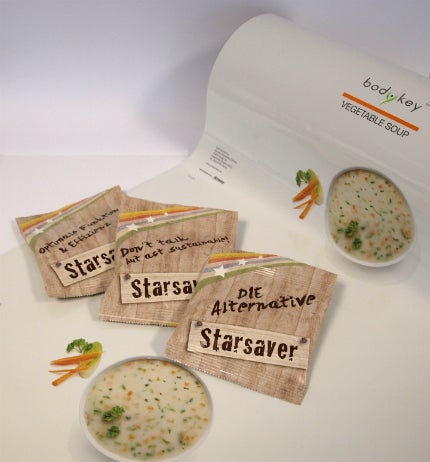 Within environmental management, the reduction of the carbon footprint has become a major target of Folienprint.
As well as using of recyclable materials and lean processes, Folienprint has been developed the Starsaver®. The Starsaver® makes a formidable contribution to the reduction of carbon emissions.
The innovation substitutes energy intensive laminates and has similar characteristics. The advantage is the vapor deposition of metallic pigments to an oriented polypropylene and much lighter than aluminum.
The Starsaver® and his low weight enable sustainability by reducing the aluminum consumption up to 97%, compared to an aluminum laminate. It features an excellent barrier to gases and aroma, as well as a high product safety. Main products are coffee, tea, spices and other dry products packed by flow packs, stickpacks and sachets.
Folienprint offers a production of various laminates by combining extremely thin and lightweight layers according to the specific product. To provide sustainable and most efficient laminations Folienprint offers an own software calculator in cooperation with ClimatePartner. The emission of greenhouse gases of one production can be exactly calculated, to find the biggest causes and identify climate protect potentials such as Starsaver®.
Advantages include:
Vapor deposition of metallic pigments
High moisture barrier
High oxygen barrier
Metal adhesion
High protection of aroma
Puncturability
Sealability
Raw material saving
Competitive advantage
Carbon footprint reduction
Contact us and develop corporately with Folienprint your individual Starsaver® laminate for several packaging solutions.
Don't talk sustainable, act sustainably.
We are offering Shrink Sleeves with a new high-performing light-blocking shrink film: Eklipse™.
Folienprint is constantly working on environmental friendly projects and sustainable products. As a result of these projects, we developed the Starsaver as an alternative to...
starblocker protects your products optimally against the premature loss of freshness, aroma and flavour. In addition, these films offer an excellent migration barrier against mineral...