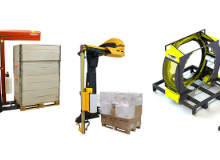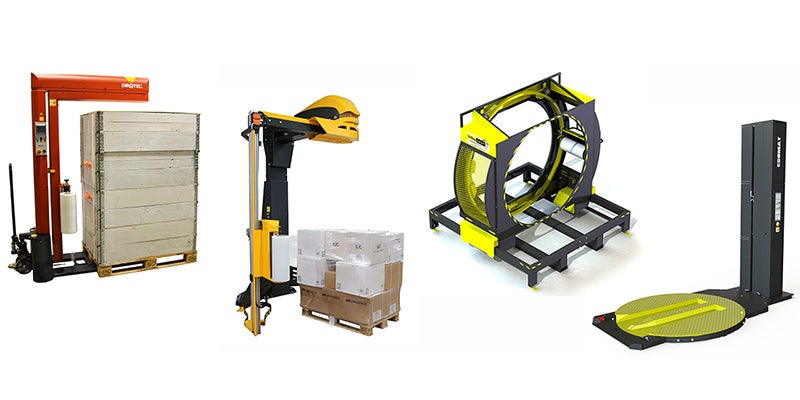 By unique solutions, innovations, and more than 40 years' experience in semi-automatic stretch wrapping machine manufacturing, Haloila has a comprehensive range of semi-automatic machines, including well-known brands such as Rolle and Ecomat turntable machines, Girotec and Cobra rotary arm machines, as well as Yellow Jacket orbital stretch wrapping machine.
Rolle 8 and 9 are solid, durable machines which are easy-to-operate. Rolle 9 has a pre-stretching option as standard (Power Pre-Stretch PPS). Ecomat Easy is a wrapping machine with mechanical brake that works with all types of stretch film. It is easy-to-operate, with perfect results for the pallet wrapping. Ecomat Plus is a Power Pre-Stretch wrapping machine, highly efficient, equipped with a device for pre-stretching of the film that ensures minimum film consumption.
Girotec PL is a wrapping machine to be installed on an electrical pallet truck or forklift truck. It is mobile, efficient, having exceptionally good wrapping results. It is compact with innovative design and works with oriented film. Girotec PL is designed for own electric supply from batteries or external power supply from the batteries of an electric pallet truck.
Girotec RDL is a wrapping machine installed on a mechanical pallet jack. This makes it exceptionally mobile and independent from any external power supply thanks to internal electric batteries.
Girotec ST is a wrapping machine with stand fixed to the floor with two options: fixed permanently to the floor or a model which do not require a firm fixation to the floor. The efficient and robust equipment ensures perfect wrapping result with minimum film consumption.
Girotec WT is a rotating arm wrapping machine for wall fixation. Girotec WT is the most efficient wrapping machine model in terms of occupied space. The efficient and robust equipment ensures a perfect result of wrapping with minimum film consumption.
Cobra G is a highly efficient rotating arm wrapping machine with a motorized power pre-stretch mechanism PPS (Power Pre-Stretch). It is especially suitable for wrapping of light and unstable pallets. The mechanical design of Cobra G allows different ways of fixation: to the wall, to the floor and to a pillar.
The steel frame of Cobra X, based on the proven Cobra G construction, makes the Cobra X machine very robust. The machine construction allows heavier film rolls, even so called industrial film rolls to be used. Additionally the Cobra X construction enables increased tension force to be used during the wrapping cycle giving more stability for the pallet load to be wrapped.
Yellow Jacket Manual Unit is an innovative wrapping machine able to wrap low and long pallets along their full length. Yellow Jacket is a perfect solution for wrapping non-standard pallets. The simple mechanical design of the machine is a pre-condition for flawless operation and low maintenance costs.
The machine can be easily upgraded to a semi-automatic wrapping machine with remote control, Yellow Jacket SA (Semi-Auto Unit). By this way the control of the wrapping process can be executed by the operator without leaving the forklift truck.