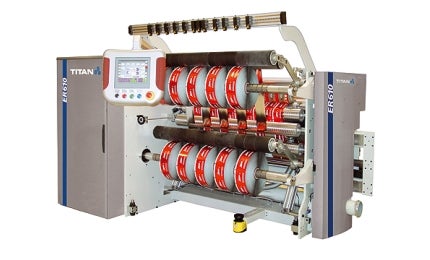 The Titan ER610 Compact Slitter Rewinder is the fruit of extensive market research and exhaustive design and development work by Atlas to bring a more sustainable and cost-effective solution in slitting and rewinding technology.
The Titan ER610 compact, twin-shaft cantilever slitter rewinder is a high-performance slitter with an innovative and environmentally friendly design, which helps to make a contribution towards the reduction of carbon emissions. Environmental benefits of the ER610 include:
Reduced power consumption
No hydraulics for oil-free, hygienic operation
Uses unlubricated compressed air for zero oil / air emissions
Less steel in a more compact design
One-piece construction for rapid installation and start-up
Shipping in one 20ft container for reduced logistics
The ER610 is designed to process 1,350mm and 1,650mm (53in and 65in) web widths at a maximum running speed of 450m/min (1,476ft/min). The minimum slit width is 50mm (1.97in) with an option as narrow as 35mm (1.37in) and a maximum rewind diameter of 610mm (24in) on twin cantilever differential rewind shafts.
The machine also features an integral edge-trim extraction system and an integral shaftless fixed-height unwind stand, with an option for jumbo roll floor 'pick-up' also available. The pneumatically controlled braking system provides highly accurate web tension control and a digital edge / line guide system controls lateral movement of the unwind reel to +/-50mm.
The ER610 control system has a ten-inch flat touch-screen terminal, non-language symbols, compact flash memory and fault diagnostics.
Slitting systems available are shear knives, rotary razor (burst) or razor slitting in air or groove. Optional features include a static electricity control system, laser (line) core positioning, EU safety guarding, laser safety scanners and unwind roll loading trolley.
TC Transcontinental is Canada's largest printer, with operations in print, flexible packaging, publishing and digital...