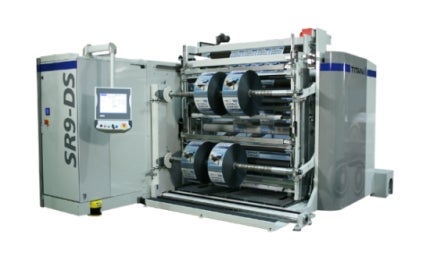 The Titan SR9-DS Duplex Shaft Slitter Rewinder is part of the next generation Titan SR9 Series technology platform, providing converters with the ultimate flexibility in slitting and rewinding solutions.
The SR9-DS can be configured for current production requirements and features a unique modular design for a simple and economical upgrade path to ensure future production demands can also be met.
Incorporating innovative and proven design features, the SR9-DS sets a new benchmark in productivity for a duplex slitter rewinder. With a production speed of up to 1,000m/min (3,300ft/min), a unique linear tracking slitter section (LTS), rewind clamp cut-off (RCC) and rewind stick down (RSD2) options, the SR9-DS provides slitting/rewinding production output previously unattainable by a duplex slitter rewinder.
Standard features:
SDC: servo driven chucks (driven unwind)
DPU: digital positioned unwind (no hydraulics)
PPD1: positive positional device (knife positioning)
Overhead web path (clean environment)
Unique features:
ORC: optimum roll conditioning (maintains high productivity)
MSTv: moving splice table (ergonomic design)
LTS: linear tracking slitting section (excellent reel quality)
GKP2: guider knife positioning (waste reduction)
KPS3: knife positioning systems (multiple options)
RCC: rewind clamp cut-off (eliminates operator intervention)
RSD2: rewind stick down (eliminates operator intervention)
TC Transcontinental is Canada's largest printer, with operations in print, flexible packaging, publishing and digital...