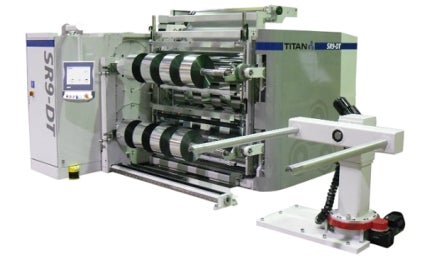 The Titan SR9-DT Dual Turret Rewinder continues to build upon the flexible and modular design first introduced with the Titan SR8 slitter, giving converters the flexibility to build a slitter rewinder suitable for current production, but also providing a simple and economic modular path to ensure future requirements can also be met with the same machine.
In the development of the Titan SR9 Series, Atlas focused its product development strategy on minimising machine downtime for printers and converters, with reductions in operator intervention and costly waste materials, which all add up to outstanding gains in productivity and sustainability.
The concept of the Titan SR9 Series technology platform features three separate machine modules of unwind, slitter and rewind sections. Innovative engineering design has led to application for three patents on the Titan SR9 Series, including the unique turret support device (TSD) for faster turret rotation on the DT model. Such advanced engineering design has led to significant improvements in the quality of slit reels and significant reductions in set-up procedures.
A newly designed linear tracking slitter (LTS) section ensures the shortest and most consistent web length between the knives and the rewind shafts for improved web control, giving the highest possible side wall quality of rewind reels and reducing the possibility of waste material. Many other new features provide exceptional performance and productivity at running speeds of up to 3,300ft/min (1,000 m/min). The SR9 Series is available in widths of 65in and 88in (1,650mm and 2,250mm).
To ensure sustainability, the Titan SR9 Series has many features for achieving reductions in waste materials and energy costs. Elimination of all hydraulics helps to provide a cleaner environment and the use of high-efficiency motors and regenerative braking enables a considerable reduction in energy consumption, making the SR9 Series the most efficient slitting-rewinding solution in the Titan range.
Standard features:
SDC: servo driven chucks (driven unwind)
DPU: digital positioned unwind (no hydraulics)
PPD1: positive positional device (knife positioning)
Overhead web path (clean environment)
Unique turret sequence (reduces cycle time)
Unique features:
ORC: optimum roll conditioning (maintains high productivity)
MSTv: moving splice table (ergonomic design)
LTS: linear tracking slitting section (excellent reel quality)
GKP2: guider knife positioning (waste reduction)
KPS3: knife positioning systems (multiple options)
RCC: rewind clamp cut-off (eliminates operator intervention)
RSD2: rewind stick down (eliminates operator intervention)
TC Transcontinental is Canada's largest printer, with operations in print, flexible packaging, publishing and digital...