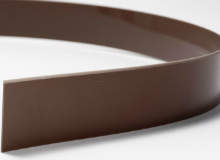 TruPoint ProFlex™ doctor blades are manufactured from a unique Teflon-filled polymer for increased stiffness and superior blade life.
The material has great chemical-resistance, good dimensional stability and a low coefficient of friction for precision metering in moderate-high line screen applications.
ProFlex is ideal for long runs, abrasive inks, and difficult fine type and reverses.
TruPoint Polyester™ doctor blades are durable, long-life blades designed to replace steel and reduce anilox scoring in chamber doctor blade systems.
The polyester blade material is highly resistant to chemicals and provides superior blade life of up to 4x longer than steel. Polyester's durability makes it a good value option for containment.