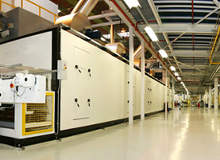 Glass and metal packaging solutions company Ardagh Group opened a new can production plant in Roanoke, Virginia, US, in November 2014. Commercial operations at the new facility were scheduled to start in January 2015.
Ardagh's Roanoke County manufacturing facility is touted as the biggest single manufacturing investment in the region. It is expected to create employment opportunities for 100 people including skilled machine operators, managers and support staff.
The plant has a production capacity of 4.5 million cans per day, which is approximately 5% of the total food can market in the US. The estimated investment to build the modern facility is more than $93.5m, with approximately $80m having been spent on equipment.
It will exclusively manufacture lightweight metal cans and traditional three-piece food cans on six high-speed production lines using Ardagh's state-of-the-art Drawn and Wall-Ironed (DWI) technology. The new, thin-walled metal can is to be manufactured by Ardagh for the first time in North America after it was successfully introduced in Europe.
Ardagh's Roanoke County facility details
Construction on the new can manufacturing plant is part of Ardagh Group's expansion strategy in the US. The Roanoke facility, along with the group's Reno facility in Nevada, will manufacture cans primarily for America's largest packaged foods manufacturer, ConAgra Foods.
Ardagh and ConAgra Foods entered a supply agreement in June 2013. Under the agreement, Ardagh will invest more than $250m in building two DWI (Drawn and Wall-Ironed) can manufacturing facilities to fulfil ConAgra Foods' substantial food can requirements in the US.
The two facilities will convert ConAgra Foods' traditional three-piece shelf-sized cans to Ardagh's flexible DWI technology and manufacture the exclusive pressurised thin-wall DWI food cans.
Location advantages
The Roanoke facility is located in 525,000ft² of land purchased from the Hanover Direct distribution centre at 5022 Hollins Road. Blaine Construction was contracted to build the can manufacturing facility.
Roanoke County was preferred for Ardagh's new facility over other locations such as Kentucky, North Carolina, Maryland, West Virginia, Pennsylvania and Tennessee due to its close proximity to the company's major customers, logistical advantages, favourable business tax structure, skilled labour, and reasonable cost of living for the employees.
Drawn and Wall-Ironed (DWI) technology details and benefits
DWI technology is similar to the technology used in making beverage cans. It is very cost-effective as it involves short processing times and enables the production of large volumes of cans with identical specifications.
The process involves two main steps: drawing and ironing. The drawing process involves reforming the thin sheets to form a cylinder with a loose end without altering the thickness of the material. The ironing process involves thinning the walls of the cans by passing them through circular dies.
Marketing commentary
Luxembourg-based Ardagh Group is among the largest producers of rigid packaging, providing glass and metal packaging solutions to some of the leading food, beverage and consumer care brands worldwide. The group runs 98 glass and metal packaging facilities in 24 countries.