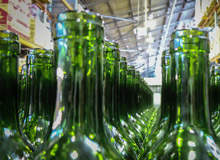 Atlas African Industries has started construction of a state-of-the-art glass bottle manufacturing plant named Chancho Project in a 50:50 joint venture with Ethiopia-based Orchid Group. It is the first project to be established by the Atlas Africa Industries, formerly known as Atlas Development & Support Services.
Ground clearance work and geotechnical drilling for the new bottling plant began after an official ground-breaking ceremony in February 2016.
The plant is scheduled to be commissioned in 2018 for full production by early 2019. Production capacity is expected to be 105 million bottles a year of 330ml volume. The project will provide employment to approximately 200 people.
Chancho Project location
The Chancho Project will be located in a 5.5-acre land in an established industrial area,situated 45km north of the capital of Ethiopia, Addis Ababa.
Atlas chose the location due to its strong infrastructure including well-established roads and power supply. The project location is just 30km away from the intended mine sites, which will source materials including silica sand, limestone, dolomite, feldspar and soda ash for the plant. These minerals are essential for the production of high-quality bottles.
Availability of abundant building materials from nearby towns, and cement factories in close proximity further made the location suitable for the plant construction.
A land lease certificate for a period of 100 years and a construction licence has been granted to Atlas for building the bottling plant.
Funding for the Chancho Project
The company will require a total of $45m staged investment for the project, with $5m sourced by issuing 1,064.3 million new ordinary shares at a price of 0.325p a share.
From the total amount, $1.5m will be used for ground breaking and construction of ancillary buildings, another $1.5m will be deposited for long lead items, and $1m for site preparation and water drilling while $1m was allocated for full feasibility study of the project.
Glass bottles supply
"The company will require a total of $45m staged investment for the project."
Through its subsidiary TEAP Glass, Atlas signed a memorandum of understanding with Raya Brewery Share Company, a leading Ethiopian brewer to supply glass bottles from the new plant.
Raya currently imports its bottles from abroad. Under the off-take agreement, Raya will be supplied with international standard, high-quality glass bottles.
Key players involved
MH Engineering was appointed as the design consultant for the glass bottling project. The company will offer a range of design services including architectural, engineering, structural, sanitary, electrical and mechanical design, and quantity surveying.
Shard Capital Partners conducted a research for the project covering the current market scenario, impact of the project on the market, current competitors, employment created and investment details.
Atlas' newly-formed industrial division is responsible for the ground clearance work.