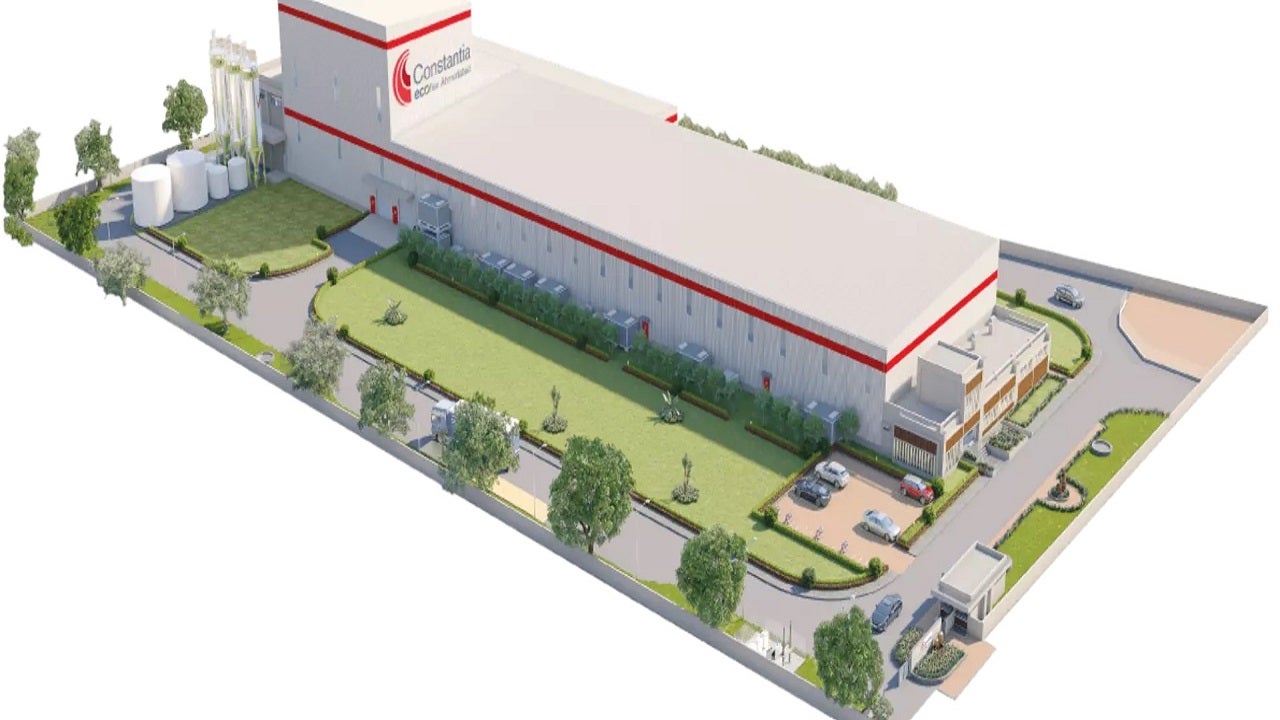 Constantia Flexibles, a flexible packaging manufacturer based in Austria, announced its plans to build a new recyclable flexible packaging plant in Ahmedabad, India, in February 2018.
Test runs at the facility commenced in September 2019 and the new plant named Constantia Ecoflex Ahmedabad was inaugurated in November 2019. It is the world's first plant to produce recyclable flexible packaging.
The plant is dedicated to the production of the company's Ecolam sustainable packaging product line of mono polymer laminates based on polyethylene (PE). It helps the company in meeting the growing demand for recyclable flexible packaging in the food, home and personal care markets.
The new facility is part of Constantia Flexibles' strategy to transform its entire packaging portfolio fully recyclable by 2025.
Details of Constantia Ecoflex Ahmedabad packaging plant
The new facility was constructed on a greenfield site and has an area of 24,500m2. It lies in close proximity to the existing Constantia Parikh packaging plant in Ahmedabad. The facility has blown film, flexo-printing, slitting, extrusion coating and adhesive lamination capabilities.
The facility is equipped with state-of-the-art technologies and equipment, including a Comexi F2 flexographic press, which features advanced electronics that reduce vibrations and offer higher operating speeds without bouncing. The flexographic press also features a drying system that uses less energy while drying the substrate.
Two Comexi S2 DT slitters are also part of the facility. The slitters feature a double turret that offers higher production rates as well as a laser-in-line processing system that enables micro and macro-perforations performance.
The facility is also equipped with an aluminium rolling mill, high-end extrusion machinery and laser perforators.
In May 2020, Constantia Flexibles purchased the BOBST EXPERT K5 1350mm metalliser for the production of ultra-high barrier PE film. The machine features BOBST AluBond®, which offers high metal adhesion, and BOBST Hawkeye, an in-line optical density deposition control system.
Constantia Ecoflex Ahmedabad packaging products
The Constantia Ecoflex Ahmedabad packaging plant produces the Ecolam lightweight mono-PE laminate that is suitable for a variety of packaging applications. It is completely recyclable due to the mono-material structure and has a 32% lower carbon footprint than that of comparable products. It serves as an alternative to non-recyclable multi-polymer laminates.
The EcoLam product line is made of lightweight material, offers higher thermal resistance and barrier protection to oxygen and water vapour. It is offered in three barrier levels, including Ecolam, EcolamPlus and EcolamHighPlus, to meet the barrier needs for a range of products.
The product line is heat sealable, offers high optical clarity and is available in transparent, white and gloss or matt formats. It can be used for packaging dairy, beverages, processed food, confectionery and pet care products.
The Constantia Ecoflex plant also produces the EcoLamTube designed for skincare and oral care products.
Contractors involved
Comexi, a packaging machinery solutions provider, supplied its Comexi F2 flexographic press and two Comexi S2 slitters.
BOBST, a supplier of packaging and label equipment based in Switzerland, supplied the EXPERT K5 metalliser for the plant.
Marketing commentary on Constantia Flexibles
Constantia Flexibles is the third largest manufacturer of flexible packaging products globally. It is jointly owned by Wendel Group (61%), an investment company based in France, Arepo Foundation (27%) and Maxburg Capital Partners (11%), an investment management company based in France.
Headquartered in Austria, the company has 38 production sites in 16 countries and employs more than 8,600 employees worldwide.
Packaging products manufactured by Constantia Flexibles are supplied to multi-national companies and to local markets specialising in the food, pharmaceutical and beverage industries.