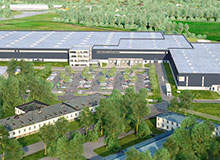 UK-based packaging company DS Smith started construction of a new display and consumer packaging plant in Erlensee, Main-Kinzig-Kreis, Germany, in August 2015, for the delivery of creative display and innovative consumer packaging solutions. The plant was officially opened in November 2016.
DS Smith had unveiled its plans to construct a new world-class plant in Erlensee in April 2014. The company invested approximately €50m ($53m) in the new plant and modern machine technology. The facility is the biggest display and consumer packaging plant in Europe.
Located less than 10km from the new plant, the Hanau-Steinheim plant was moved to the new location. The new facility accommodates 250 employees of the existing plant and creates additional jobs in the Main-Kinzig area.
"The facility is the biggest display and consumer packaging plant in Europe."
The new plant set new standards for both display and consumer packaging categories. It improves DS Smith's ability to meet the requirements of customers across Germany, Austria and Switzerland.
Project background and benefits
DS Smith initiated the new plant development as the existing Hanau-Steinheim plant no longer meets the requirements of a highly efficient industrial business model. The company also recognised the need to reposition and consolidate the display activities at a central location in order to increase the efficiency and flexibility in operations.
The former Fliegerhorst site in Erlensee was preferred to construct the new plant. The centrally located facility ensures the customers to enjoy the benefits of reliable customer service and packaging solutions.
The plant strengthens the display packaging business by producing all items under a single roof.
Facilities at the display & consumer packaging plant
The new display and consumer packaging plant occupies 45,000m² of the 88,000m² site. It houses production and logistics facilities equipped with latest corrugating and converting equipment. The project also includes conference rooms, offices and social rooms for the employees, as well as presentation suites for customers.
Marketing commentary on DS Smith
DS Smith is one of the leading suppliers of corrugated packaging and the second biggest containerboard manufacturer in Europe. It also offers specialist plastic packaging products worldwide. Established in 1940, DS Smith currently operates in 34 countries. The company handles four business divisions, namely packaging, paper, plastics and recycling.
The company's product portfolio comprises quality consumer packaging, intelligent transport, creative displays, industrial and hazardous goods packaging, promotional material and consultancy services for the entire supply process.
DS Smith employs approximately 24,500 people and recorded revenues of £4.07bn in FY2016.